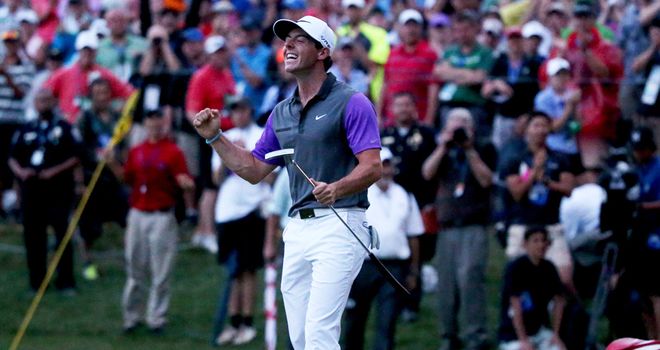 Rory McIlroy celebrates on the 18th green
Rory McIlroy was proud of the way he held his nerve under intense pressure to win the US PGA Championship on a dramatic final day at Valhalla.
McIlroy began the day with a one-shot lead but was three behind at one point, as a series of challengers made a string of birdies.
But McIlroy hit back with a four-under-par back-nine and a crucial birdie at 17 meant he could afford to par the last and beat Phil Mickelson by one shot.
A rain delay meant that conditions were very dark by the time McIlroy holed his final putt to make it two major wins in a row, following his victory in the Open three weeks ago, and three tournament wins in succession.
"It's been just incredible," said McIlroy, who has now won four majors in his career. "I didn't think in my wildest dreams I'd have a summer like this. I've played the best golf of my life.
"I really gutted it out today, this was a different way to win a major.
"The other three were quite comfortable but I really had to dig deep today.
Guts
"I had to hole some putts and hit some clutch shots, and I managed to do that, so I'm really pleased.
"I think I showed a lot of guts out there today to get this job done."
McIlroy and playing partner Bernd Wiesberger had to play the last hole in a hurry as the darkness closed in, teeing off early with the permission of the group ahead.
And he added: "I want to thank Phil (Mickelson) and Rickie (Fowler) for letting us play up because, if they didn't, it would have been a struggle for us to get finished.
"It was a lot of sportsmanship and a lot of class from those two guys, so thanks very much."
Asked if he ever thought he might not finish his round, McIlroy said: "No way.  I wanted to win this thing and get out of here!
"It was tough (in the darkness). It was tough with that bunker shot (at the last), with the depth perception in the sand.
"That made it a little difficult so I decided just to chunk it out there, take my two putts and run!"