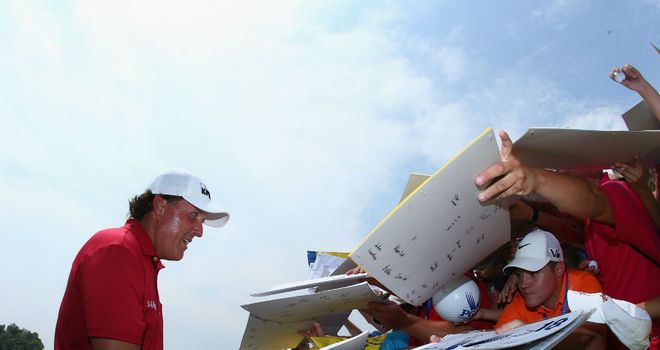 Phil Mickelson signs autographs for his fans at Valhalla during Tuesday's practice
Phil Mickelson has admitted he will head into this week's US PGA Championship full of confidence after his stunning 62 at Firestone last weekend.
The five-time major champion fired the best round of his season to date on Sunday at the WGC-Bridgestone Invitational as he stormed through the field to finish in a tie for 15th.
Given he has failed to secure a single top-10 finish on the PGA Tour this year, it was just the fillip the 44-year-old needed ahead of this week's event at Valhalla.
"In this game, things can turn around really in an instant," Mickelson told reporters on Tuesday. "I don't want to put too much into one round. I'm interested to see how it goes Thursday and Friday, but certainly my confidence level and my practice sessions are totally different.
"I don't feel like I'm searching. I feel like I'm just trying to now acquire that same feel from Sunday and I feel like I've found what I'm looking for. I just have to maintain it.
"Sunday was a big day for me because it just kind of fell together. I felt like the pieces were close, I played some good golf and it felt like it started to fall together.
"I've been waiting for it to just click and all come together in a round and I felt like once that happened there would be some momentum.
Momentum
"It's a really good thing for me to get that kind of momentum from one round. The way the pieces fell together, I started to roll the ball well and wedge play started to get good, short irons got better and just really two days prior, it was just horrific. So it was an important day.
"The rhythm and the timing and touch and things started to come back. I'm trying to take that feel and touch from the weekend and bring it over here, and it seems to be a lot better.
"I feel a lot more confident in my game, and hopefully I can put together four good rounds instead of just two."
Although success at the season's final major is incentive enough for the mercurial left-hander, Mickelson has the added motivation of trying to ensure his place on America's Ryder Cup team in his mind this week.
The tournament is the last qualifying event for next month's biennial clash at Gleneagles and Mickelson – who is currently just outside the ninth and final automatic place - is confident he will do enough to earn a tenth appearance for his country without the need for a captain's pick.
"I really do believe that after the way I played on the weekend, I think I'll continue that play into this week and I'm confident that I'll get on the team on my own and won't require that pick," he added.
"I want to keep that streak going of two decades that I have of making the team on my own and not needing a pick."
You can watch the US PGA Championship live on Sky Sports 4 from 6pm on Thursday.