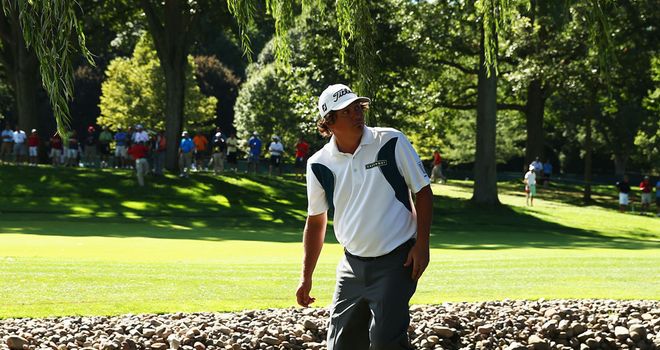 Jason Dufner gunning for maiden major
Jason Dufner hopes his experiences in the past will help him keep his focus as he goes for a maiden major title at the US PGA Championship on Sunday.
Dufner shot into contention at Oak Hill with a record-equalling 63 on Friday, but had to dig deep to grind out a one-over round of 71 on Saturday to sit just one shot behind leader Jim Furyk.
Having started the third round with a two-shot lead, Dufner missed a birdie putt at the fourth hole before finding water on the fifth and carding a double bogey.
Dufner then had to really focus to grind out a one-under par back nine to finish on eight-under to ensure he plays with Furyk in Sunday's final pairing.
"You're going to hit poor shots. You're going to get bad breaks," he said. "You've just got to move on past it. Those are the type of things that can really get you unnerved and unsettled.
"There were a couple of times today where I was pretty frustrated with things, with the way things were going. If you lose your head out there you can lose track. I think it's important to stay even keel for the most part.
Tough
"The golf course played a little bit tougher today than yesterday. The wind picked up a little bit, which made club selection difficult. But I hung in there. It could have gone sideways quick there after the fifth hole.
"You have got some difficult holes right there, six and seven are pretty tough. I put it together. I played pretty good on the back nine, had a couple of looks I wish I would have made a better run at."
Dufner lost a play-off to Keegan Bradley at the US PGA two years ago after blowing a five-shot lead with four holes to play, but he says his experience will help him stay patient on Sunday this time around.
"Hopefully the experience I've had since then will pull me through and give me a chance to win," Dufner added.
"There are a lot of guys that have a chance to win this tomorrow. It's a tough golf course. Guys are going to make bogeys. Guys are going to make birdies. You don't have to play perfect to win these events. I just think patience is of the utmost importance on a Sunday in a major.
"You're never really out of it, even if you make a bogey or two in a row, you can always come back and have a chance to win that thing on the back nine."