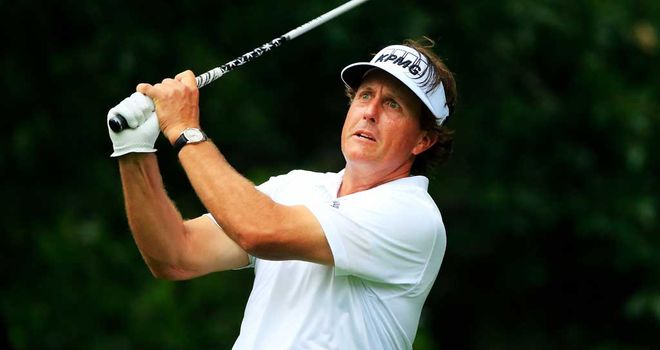 Phil Mickelson: Needs a big weekend
Open champion Phil Mickelson knows it will take a big move in round three to give himself the chance of back-to-back majors.
The Muirfield hero had to settle for a second successive 71 on Friday, leaving him nine shots behind playing partner Adam Scott, who posted the clubhouse target of seven-under.
The other member of the trio of 2013 major winners, Justin Rose, also left Mickelson in his wake after coming home in 29 to post six-under.
"I have got to shoot 6 or 7 under par to have a chance on Sunday."
Phil Mickelson
Asked if he had a number in mind for Saturday's third round, Mickelson said: "I have got to go low tomorrow. I have got to shoot 6 or 7 under par to have a chance on Sunday.
"I think it's difficult when you are up near the lead and you are being forced to make birdies and pressed. I think that there is room and opportunity for guys to come from behind and get right in the mix."
Talking about his play over the first 36 holes, the five-time major champion said: "I struggled these first two days, for sure.
"Playing with Adam and Justin, who played really terrific golf. made it look even worse.
"I fought hard to stay in it. It's just a little bit off. I feel like it can turn around in a second. I don't feel like it's that far off. I struggled on the greens. I was over reading most every putt.
"I really struggled fading the ball. I drew the ball well off the tee. I hit some good tee shots; it felt easy. I hit some good iron shots where I drew it, but I had trouble getting the ball working to the left pins and consequently left myself a lot of long putts on those holes."