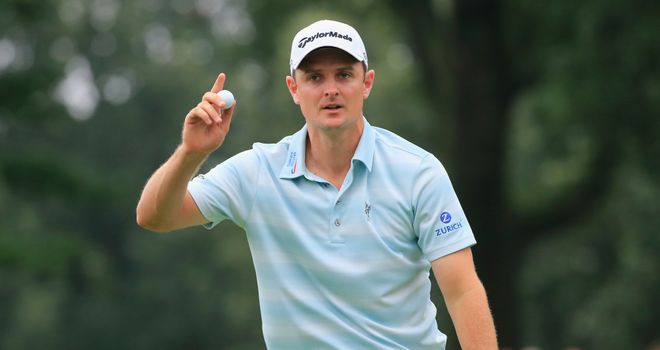 Justin Rose celebrates a birdie during his second round 66
Justin Rose put himself in position to win a second major in two months after a second round 66 in the US PGA Championship.
Starting from the 10th, US Open champion Rose bogeyed his first two holes and struggled to the turn in 37 at a rain-drenched Oak Hill, but then stormed home in 29 with six birdies to complete a superb 66.
That left the 33-year-old six under par and one behind the clubhouse lead of playing partner Adam Scott, the Masters champion adding a 68 to his opening 65 despite the early starters getting by far the worst of the conditions.
"I sit here today really relishing the opportunity on the weekend to try and win another major with no hesitation, which there may have been a few years ago because you don't know how it's going to pan out or how you're going to deal with it," said Rose, who finished fourth in the Open as a 17-year-old amateur in 1998 but then missed 21 cuts in a row after turning professional the next day.
"It's wonderful to be in this situation right now, talking about having done it, talking about feeling like you can win more, believing in yourself and not talking about how I hope it could happen this week. So I think that alone makes it easier.
"I take confidence and encouragement from the fact that I think Phil (Mickelson) was 33 when he won his first major. He is right now one of the greats of the game I think, especially if he gets a US Open. He then goes down in an all-time, very short list (of players to win the career Grand Slam).
"It's motivating to know that you can still build that kind of career in your 30s. You understand how hard it is. There's great players who haven't been able to win a major so I feel grateful to have the monkey off my back and be able to focus forward and look at each of them coming up as opportunities.
"I feel my game suits the tougher golf courses."
"Obviously I got hot and kept rolling with it."
Justin Rose
Speaking about his round, Rose - who won the US Open at Merion in June but missed the cut in the Open at Muirfield - said: "It was definitely a round of two halves. I was just hanging on for dear life and then the rain stopped, I put on a fresh glove and you began to feel like you could get after the golf course.
"Obviously I got hot and kept rolling with it. Adam played some great golf the last couple of days and showed me that this course is playable and you can make some birdies out there. And when I got hot, I stayed with it, which was nice."