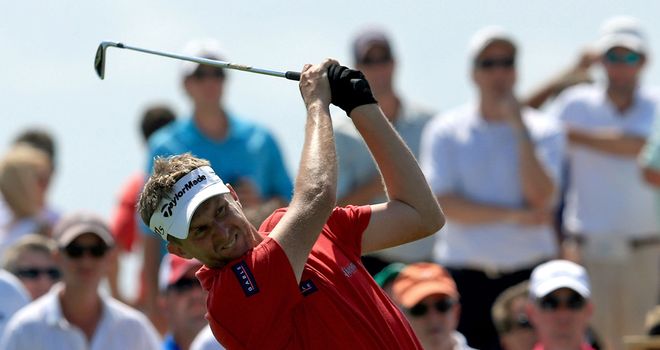 David Lynn in action during his excellent third round 68
England's David Lynn is having a USPGA to remember - despite a brush with an alligator
The 38-year-old carded a superb 68 in Saturday's third round to climb to one-under and when play was suspended for lightning he was sat in tied 11th, just five shots off the lead.
This is Lynn's first ever start in a major on American soil and he revealed later that his memorable week had included stepping on an alligator.
"I'm on the island in a lovely villa which has got a lovely bit of decking area sat over the water behind," said Lynn.
"There's gators and I literally stood on a gator's head, that's how close they are.
Scary
"I think there's about three different ones come over. They all seem to come over to where we are (he made the trip with his girlfriend) and one of them is quite a big lad - he's quite scary."
Lynn has never been described the same on the golf course. He has one win in 370 European Tour event going back 16 years.
The 38-year-old has only ever qualified for one Open Championship. That was at Sandwich in 2003 and he finished 53rd, but with over 50 top-10 finishes he has earned more than £5million and has not had to go back to the qualifying school since 1999.
He made it into this week's field by virtue of his climb into the world's top 100.