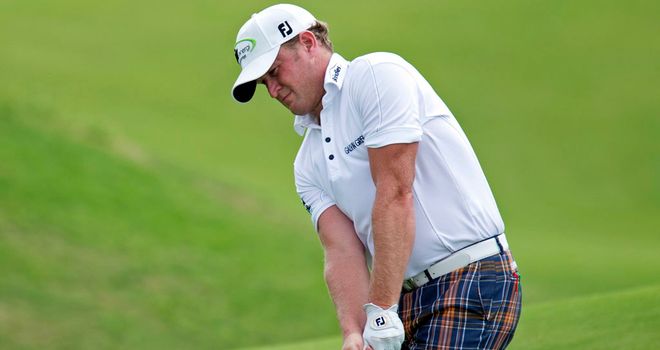 Jamie Donaldson: Battled hard on Friday
In-form Jamie Donaldson is right in the hunt after 36 holes of the PGA Championship, after putting together rounds of 69 and 73 at Kiawah Island.
On a windy second day in South Carolina, the Welshman kept his head to remain in the thick of contention, his position getting better all the time as the afternoon wave struggled in the wind.
The only major problem came at the 579-yard, par-five seventh, where he struggled to a double-bogey seven but he eventually finished the day just two shots off the lead.
Wind troubles Donaldson
Donaldson won his maiden European Tour title over the links of Portrush in early July and the 36-year-old said: "It was really difficult.
"We had a lot of wind at the start but it just got a little bit more windy towards the end.
Couldn't get near the flags
"You think you have a chance towards the end where it's blowing downwind but the wind was so strong, you just couldn't get near the flags.
"It was a result if you actually hit the green on the downwind holes. It's just a brutal test of golf.
"With rain coming in, you don't get a much harder test of golf than this golf course.
"You need to stay patient. It's just so hard reading the green, never mind getting near the flag when you have to get up and down from there. It's very, very difficult, and frustrating at times."
Donaldson's 73 was 20 strokes better than one of his playing partners, American club professional Doug Wade.