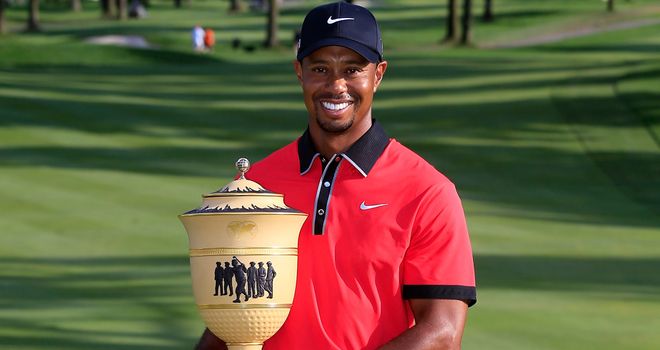 Woods: will he lift another trophy next weekend?
Butch Harmon says Tiger Woods can win the final major of the year if he takes his Firestone putting form to Oak Hill.
The world number one will arrive at this week's US PGA Championship full of confidence after winning the WGC-Bridgestone Invitational by seven strokes, the eighth time he has won the event during his glittering career.
Woods has faded from contention in the 2013 majors so far - an issue that former coach Harmon attributes to a lack of confidence on the greens - but he says his experiences this weekend should ensure he's a real contender on all four days at Oak Hill.
"Tiger is playing very well from tee to green," he told Sky Sports.
"What we've seen in the majors this year, especially on the weekends, is he hasn't putted like Tiger normally does.
"If he putts the way he putted this week and plays the way he played then he will have a great chance at the US PGA.
"With all the off-course drama he's had in the last few years, it's nice to see some normality come into his life and I think it makes it easier for him to feel good about his game and good about himself as a person.
"It's going to be interesting. Oak Hill is a course where they're not going to hit many drivers and we know that if Tiger has one club in his bag that he struggles with then it's the driver.
"He won't have to hit hardly any at Oak Hill. He'll hit a lot of three woods and irons off the tee and it's a good golf course for him.
"But once again, to win you have to make putts."
No danger
Woods set up his seven-stroke success at Firestone with a blistering 61 in round two and retained his seven-shot advantage over the rest of the field on the final day.
Woods wins WGC
A steady round of 70 saw him keep the likes of Henrik Stenson and Keegan Bradley firmly at bay and Harmon said his sensible Sunday scoring was the right approach.
"He started with a seven-shot lead and was never going to be aggressive all day long," he added.
"He kept dumping his ball onto the middle of the greens, which he had to do, and didn't take any runs at any putts or put himself in any danger.
"He did just what you have to do to win. He went out and shot even par and we knew that if he shot even par then everybody else would have to shoot 63 or better - and it didn't happen."