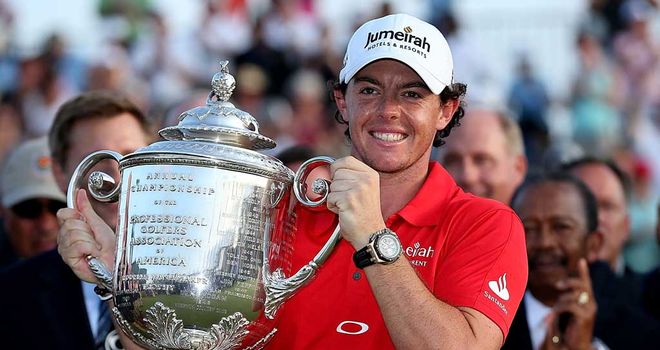 McIlroy: Lifts USPGA trophy
Sky Sports' Colin Montgomerie hailed Rory McIlroy's comprehensive victory in the USPGA Championship as "something very special" and insisted the Northern Irishman is now the man to beat in world golf.
"This kid is the real deal and he is here to stay. We are going to watch him win golf tournaments for a long, long time."
Butch Harmon Quotes of the week
McIlroy stormed to an eight-shot win at Kiawah Island to claim his second major - matching his winning margin in last year's US Open and eclipsing Jack Nicklaus's previous record of seven in this event in 1970.
The 23-year-old also shot back to the top of the world rankings and Montgomerie believes he could now go on to win a glut of majors, starting with the Masters next year, after his magnificent win.
Special
"It is very significant, especially to win that way by eight," he told Sky Sports. "This is something very special and the competition has a long eight months to think about how they are going to beat this guy at the Masters because he is hot favourite going in there to win his third major and continue on his way to a Grand Slam.
"He started three ahead and it was a matter of time before he went four, five, six, seven and eventually eight ahead. This course was set up for him. I know you still have to do it but I was not convinced that the chasing pack was playing well enough. Yes, Ian Poulter came out but Tiger was not playing the way we know Tiger can.
"There was one man out there who was playing against the golf course. He was not playing against the field, he was playing against himself. We have someone who I think is in the same stable as Tiger Woods and that is something that I thought I would never say."
Favourite
With two majors in two years, Montgomerie believes McIlroy can go on now to win many more and is undoubtedly the man to beat.
"As long as he does exactly what he is doing from now on there is no reason why he can't win one or more majors every year," he said. "And every time he starts a major, he starts as favourite now and there's no question why he shouldn't. Winning in America is difficult, believe me, and to do what he has done today is quite phenomenal."
Fellow pundit Butch Harmon was equally effusive in his praise of the Northern Irishman and said his tireless work since a disappointing US Open performance was the foundation for a "phenomenal" win.
Phenomenal
"If you are looking for the real deal, you saw him on Sunday in Rory McIlroy," he said. "This is some kind of an impressive win for him. Monty said he was going to win by many - Monty, you were right. It is phenomenal. It was a joy to watch him play golf this week.
"In the middle of the summer at the US Open when he played so poorly he listened to what everybody said. He knows what they (the critics) are saying about him. Instead of getting him down this made him work harder and look at the result. This kid is the real deal and he is here to stay. We are going to watch him win golf tournaments for a long, long time."