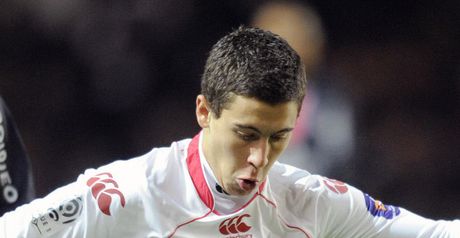 Sky Sports Scout is our exciting feature where we scour the globe looking out for the best talent and bring you a report on what we find.
NAME: Eden Hazard AGE: 18 (7th January, 1991) BORN: La Louviere, Belgium POSITION: Midfielder CLUB Lille FACTS: His 15-year-old brother plays for Lens. Sky Sports Scout Ratings: 0-10 - No hoper 11-20 - Should look elsewhere 21-30 - Might not make it 31-40 - Has work to do 41-50 - Keep an eye on him 51-60 - Great prospect 61-70 - On his way to the top 71-80 - Already World-class
Our Scout will report back and you can comment on what you think of our appraisal.
Also, in association with Football Manager, we give all readers the chance to win a copy of the latest game by nominating a player.
You can only nominate a player by emailing here, including the word 'Scout' in your subject line.
Should your player get reviewed by our scout, and you were first to send in his name, then you will win a copy of Football Manager Live! - which includes a pre-paid four-month subscription.
Latest under our scout's gaze is Lille's Eden Hazard - recommended by Sky Sports reader Paul Franklin.
The scout reports...
Eden Hazard has been one the revelations of Ligue 1 this term.
The diminutive attacking midfielder only played a handful of games last season but he made himself a first choice this term.
The Belgium starlet started his education at FC Tubize, before catching the eye of Lille scouts and moving to northern France.
He quickly settled and was handed his senior debut at the age of 16. Hazard already has two caps with Belgium
An excellent dribbler of the ball, Hazard possesses superb vision which enables him to pick some wonderful passes.
The scout says...
It is little surprise some of Europe's elite have taken a keen interest in Hazard. A big move appears inevitable, but he seems to have his head screwed on and has already admitted he needs to continue his education at Lille.
The Scout rating...
Shooting: 6 out of 10
Passing: 8 out of 10
Tackling: 5 out of 10
Heading: 5 out of 10
Pace: 9 out of 10
Vision: 8 out of 10
Current ability: 8 out of 10
Potential ability: 9 out of 10
OVERALL SCOUT RATING: 58/80
Current value: £5million
Potential value: £15million
Your opinion...
You have read our opinion of Eden Hazard - now we want your views. Have you seen Eden in action? Do you agree with our assessment? Do you think he will make it?
And if you have spotted anyone you think we should feature, then please get in touch. We will look to send out the Scout to follow up some of your leads.