Jo-Wilfried Tsonga withdraws from US Open due to a knee injury
Last Updated: 15/08/13 1:30pm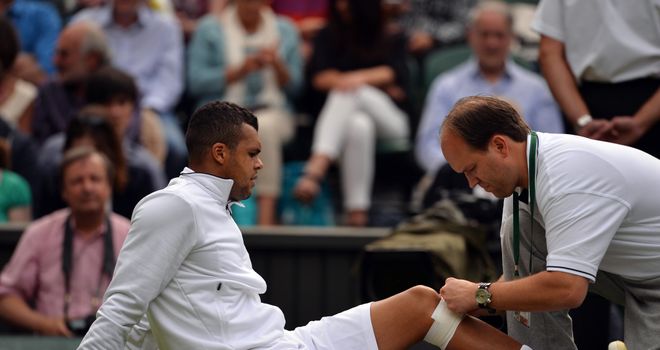 Jo-Wilfried Tsonga: Has not recovered from the knee injury he suffered at Wimbledon
Jo-Wilfried Tsonga has withdrawn from the US Open as he has not recovered from the knee injury he aggravated at Wimbledon.
The world number eight was among a host of players who either did not start or did not complete their second-round matches at the All England Club.
Tsonga had hoped to be fit for this year's final grand slam but he announced on his official website that he needs more time to recover.
The Frenchman wrote: "Today I have to take care of me and make sure I can play 100 per cent.
"The thinking is simple. The doctors told me that it would be at least two months for my tendon to partially heal and five months to be completely healed.
"Two months takes me to the US Open. It would be stupid to go there knowing full well that I have no chance because I'm not prepared enough."
Tsonga has been no stranger to injury during his career, and he added: "Everything that happened to me helps me a lot.
"I know exactly what I have, I know exactly how long it will take. Whenever I hurt myself, I often come back again even stronger."
The 28-year-old aims to return to the ATP World Tour at the tournament in Metz, which begins on 16 September.
"I still have one month," he said. "It will come soon, but I am optimistic."