Grigor Dimitrov Player Profile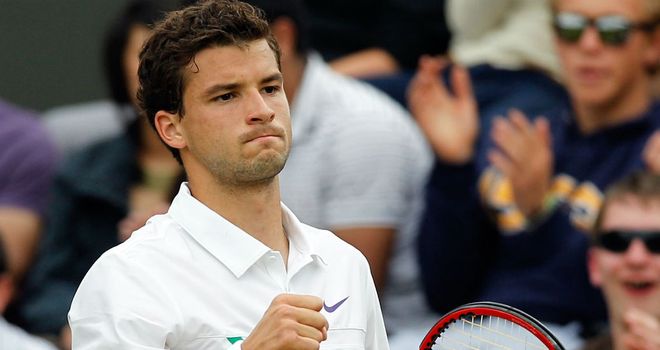 Grigor Dimitrov: Is beginning to live up to the hype this year
Dimitrov continues to rise in the rankings after three tournament wins and a run to the quarter-finals of the Australian Open.
The Bulgarian has long been regarded as one of the most promising young prospects on the men's tour but has really started to deliver on his potential this year.
His trip to the last eight in Melbourne, where he was beaten in four sets by Rafael Nadal, was the first time he had ever been past the third round of a grand slam.
He has backed that up by winning in Acapulco and Bucharest and then took victory at the traditional Wimbledon tune-up at Queen's. A loss to Ivo Karlovic in the first round of the French Open was a notable blip, though.
Dimitrov, who won the junior Wimbledon crown in 2008, bases his game around strong baseline play and eye-catching groundstrokes.
Player Details
Nationality: BUL
Date Of Birth: May 16, 1991
Became Pro: 2008
Height: 1.9 m
Recent Results

| Date | Opponent | Tournament | Round | Result | Score |
| --- | --- | --- | --- | --- | --- |
| 04/07/14 | N Djokovic | All England Lawn Tennis Championships | SF | Lost | 4-6, 6-3, 6-72, 6-77 |
| 02/07/14 | A Murray | All England Lawn Tennis Championships | QF | Won | 6-1, 7-64, 6-2 |
| 30/06/14 | L Mayer | All England Lawn Tennis Championships | R4 | Won | 4-6, 6-76, 2-6 |
| 27/06/14 | A Dolgopolov | All England Lawn Tennis Championships | R3 | Won | 7-63, 4-6, 6-2, 4-6, 1-6 |
| 25/06/14 | L Saville | All England Lawn Tennis Championships | R2 | Won | 3-6, 2-6, 4-6 |
| 23/06/14 | R Harrison | All England Lawn Tennis Championships | R1 | Won | 6-71, 3-6, 2-6 |
10 Year Grand Slam History

| | 2014 | 2013 | 2012 | 2011 | 2010 | 2009 | 2008 | 2007 | 2006 | 2005 |
| --- | --- | --- | --- | --- | --- | --- | --- | --- | --- | --- |
| Australian Open | QF | R1 | R2 | R2 | - | - | - | - | - | - |
| French Open | R1 | R2 | R2 | R1 | - | - | - | - | - | - |
| Wimbledon | - | R2 | R2 | R2 | - | R1 | - | - | - | - |
| US Open | - | R1 | R1 | R1 | - | - | - | - | - | - |
Features