Tommy Robredo Player Profile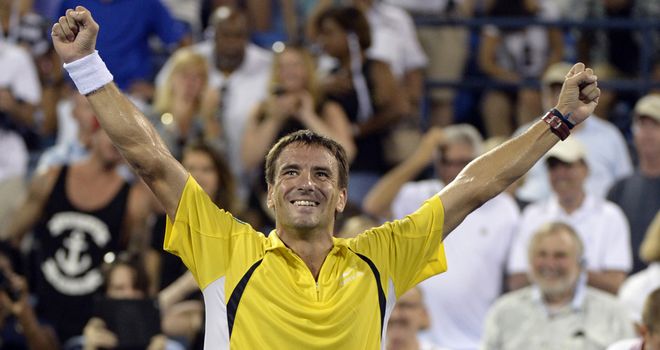 Tommy Robredo: Beat Roger Federer during the US Open last year
Spaniard Robredo is an experienced campaigner who reached the quarter-finals of the US Open last year.
His run At Flushing Meadows, which was ended by eventual champion Rafael Nadal, was notable for Roger Federer's capitulation in their fourth-round clash.
He took two ATP titles last year and made headlines at the French Open when he came back from two sets down to win three straight times en route to the quarter-finals.
Indeed most of his grand slam success has come at Roland Garros, where he has reached the last eight five times, and 11 of his 12 tournament wins have come on clay.
The 32-year-old is not as dangerous when playing on other surfaces but a shock win against Novak Djokovic at the recent Cincinnati Masters shows that he must not be underestimated.
Player Details
Nationality: ESP
Date Of Birth: May 1, 1982
Became Pro: 1998
Height: 1.8 m
Recent Results

| Date | Opponent | Tournament | Round | Result | Score |
| --- | --- | --- | --- | --- | --- |
| 01/09/14 | S Wawrinka | US Open | R4 | Lost | 5-7, 6-4, 6-77, 2-6 |
| 30/08/14 | N Kyrgios | US Open | R3 | Won | 3-6, 6-3, 7-64, 6-3 |
| 28/08/14 | S Bolelli | US Open | R2 | Won | 5-7, 6-75, 6-4, 6-3, 6-2 |
| 25/08/14 | E Roger-Vasselin | US Open | R1 | Won | 6-4, 6-3, 6-4 |
| 19/08/14 | N Mahut | ATP Winston-Salem Open | R2 | Lost | 6-1, 7-60 |
| 15/08/14 | D Ferrer | ATP Western & Southern Open | QF | Lost | 6-4, 3-6, 6-3 |
10 Year Grand Slam History

| | 2014 | 2013 | 2012 | 2011 | 2010 | 2009 | 2008 | 2007 | 2006 | 2005 |
| --- | --- | --- | --- | --- | --- | --- | --- | --- | --- | --- |
| Australian Open | R4 | R1 | - | R4 | R1 | R4 | R2 | QF | R4 | R3 |
| French Open | R3 | QF | - | - | R1 | QF | R3 | QF | R4 | QF |
| Wimbledon | R4 | R3 | - | R1 | R1 | R3 | R2 | R2 | R2 | R1 |
| US Open | - | QF | R2 | - | R4 | R4 | R4 | R3 | R4 | R4 |
Features