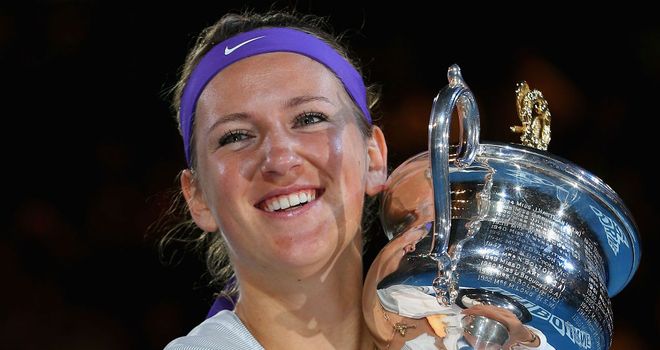 Victoria Azarenka: Has won the Australian Open in each of the last two years
Now established as the second best player in the world, Azarenka will be chasing a third straight title in Melbourne.
The Belarusian has won two grand slam titles in her career so far, both of which have been earned at the Australian Open.
Azarenka's potential has always been evident but it was only in 2012, when she started the year with a 26-match winning streak that moved her to the top of the world rankings, that it was delivered upon.
She served for the US Open title against Serena Williams in that year and took the same player to three sets in 2013, but could not close it out on either occasion.
It has been a happier story in Australia, where she defeated Maria Sharapova in the 2012 final before beating Li Na to win the 2013 crown.
Known for her loud 'grunting' on court, Azarenka looks to attack from the baseline and, even though Serena is the favourite, the 24-year-old will not give up her crown easily.
Player Details
Nationality: BLR
Date Of Birth: July 31, 1989
Became Pro: 2003
Height: 1.8 m
10 Year Grand Slam History

| | 2014 | 2013 | 2012 | 2011 | 2010 | 2009 | 2008 | 2007 | 2006 | 2005 |
| --- | --- | --- | --- | --- | --- | --- | --- | --- | --- | --- |
| Australian Open | R1 | W | W | R4 | QF | R4 | R3 | R3 | R1 | - |
| French Open | - | SF | R4 | QF | R1 | QF | R4 | R1 | R1 | - |
| Wimbledon | - | R2 | SF | SF | R3 | QF | R3 | R3 | R1 | - |
| US Open | - | RU | RU | R3 | R2 | R3 | R3 | R4 | R3 | - |