Kei Nishikori Player Profile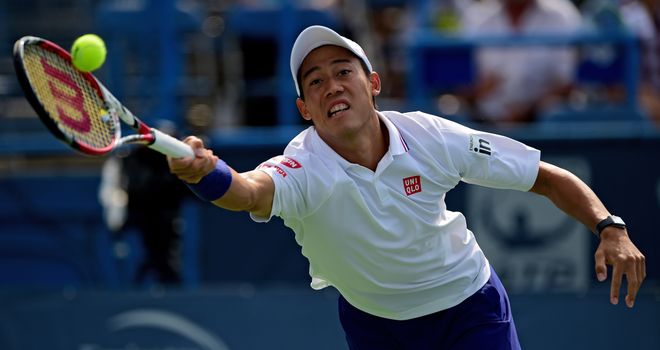 Kei Nishikori: Was one of the form players of 2014 before suffering injuries
Nishikori will be hoping to regain the momentum he was gathering before injuries disrupted his promising season.
Long touted as a promising prospect, the 24-year-old looked to have realised his potential this year as a string of impressive performances saw him rise into the world's top 10. 
His rich vein of form started when the Florida resident retained his Memphis title and also won in Barcelona. He seemed on course for the best result of his career in the Madrid Open next time out but suffered a back injury in the final against Rafael Nadal and eventually had to retire. 
He was still suffering with the problem at Roland Garros, where he was dumped out in the first round by Martin Klizan, and he only reached the fourth round of Wimbledon before bowing out.
He attempted to rebuild his campaign on the hard courts of North America but his physical problems resurfaced, this time in the form of a cyst on his foot, and he missed the Masters 1000 events in Toronto and Cincinnati.
Nishikori's game relies on touch and finesse as he lacks the power of the majority of the world's top players. He also comes to the net more frequently than many of his contemporaries.
Player Details
Nationality: JPN
Date Of Birth: December 29, 1989
Became Pro: 2007
Height: 1.78 m
Recent Results

| Date | Opponent | Tournament | Round | Result | Score |
| --- | --- | --- | --- | --- | --- |
| 08/09/14 | M Cilic | US Open | F | Lost | 6-3, 6-3, 6-3 |
| 06/09/14 | N Djokovic | US Open | SF | Won | 6-4, 1-6, 7-64, 6-3 |
| 03/09/14 | S Wawrinka | US Open | QF | Won | 3-6, 7-5, 7-67, 6-75, 6-4 |
| 01/09/14 | M Raonic | US Open | R4 | Won | 6-4, 6-74, 7-66, 5-7, 4-6 |
| 30/08/14 | L Mayer | US Open | R3 | Won | 4-6, 2-6, 3-6 |
| 28/08/14 | P Andujar | US Open | R2 | Won | 4-6, 1-6 retired |
10 Year Grand Slam History

| | 2014 | 2013 | 2012 | 2011 | 2010 | 2009 | 2008 | 2007 | 2006 | 2005 |
| --- | --- | --- | --- | --- | --- | --- | --- | --- | --- | --- |
| Australian Open | R4 | R4 | QF | R3 | - | R1 | - | - | - | - |
| French Open | R1 | R4 | - | R2 | R2 | - | - | - | - | - |
| Wimbledon | R4 | R3 | R3 | R1 | R1 | - | R1 | - | - | - |
| US Open | - | R1 | R3 | R1 | R3 | - | R4 | - | - | - |
Features