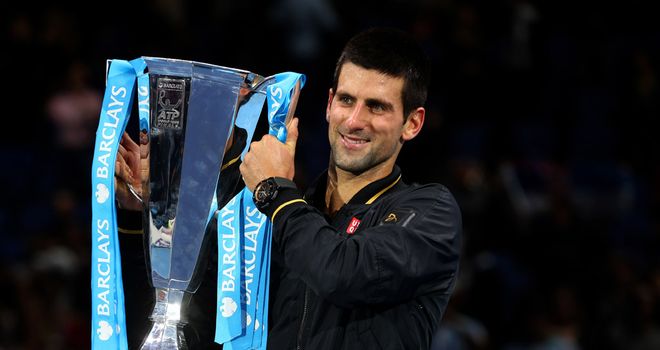 Novak Djokovic: Won the ATP World Tour Finals last year
The defending champion has been given the tag of favourite after a good run of form over the latter part of the season.
Djokovic clinched his second year-end title last year, overcoming Roger Federer in two tightly-contested sets at the O2 Arena.
The Serbian started the year in fine style and is finishing it strongly, but in between was powerless to prevent Rafael Nadal from usurping him as the No 1 ranked player in the world.
A third straight title at the Australian Open and a victory over Nadal in the final of the Monte Carlo Masters were followed by defeats in the semi-final of the French Open and final of Wimbledon.
The North American hard-court swing ended with defeat in the final of the US Open to Nadal, a match in which he fought hard but was ultimately outplayed quite comfortably.
It seemed that both Andy Murray and Nadal had his number, but the former will not be present in London and he got his revenge on the latter by beating him in the final in China.
He won the Shanghai Masters last time out and looks to be in good form heading into London, where his scrambling, spectacular defence and brilliant backhand are sure to impress again.
Player Details
Nationality: SRB
Date Of Birth: May 22, 1987
Became Pro: 2003
Height: 1.9 m
Recent Results

| Date | Opponent | Tournament | Round | Result | Score |
| --- | --- | --- | --- | --- | --- |
| 17/11/13 | T Berdych | Davis Cup World Group Final | Match 4 | Won | 4-6, 6-75, 2-6 |
| 15/11/13 | R Stepanek | Davis Cup World Group Final | Match 1 | Won | 5-7, 1-6, 4-6 |
| 11/11/13 | R Nadal | Barclays ATP World Tour Finals | F | Won | 6-3, 6-4 |
| 10/11/13 | S Wawrinka | Barclays ATP World Tour Finals | SF | Won | 3-6, 3-6 |
| 09/11/13 | R Gasquet | Barclays ATP World Tour Finals | Grp B | Won | 6-75, 6-4, 3-6 |
| 07/11/13 | J Del Potro | Barclays ATP World Tour Finals | Grp B | Won | 3-6, 6-3, 3-6 |
10 Year Grand Slam History

| | 2013 | 2012 | 2011 | 2010 | 2009 | 2008 | 2007 | 2006 | 2005 | 2004 |
| --- | --- | --- | --- | --- | --- | --- | --- | --- | --- | --- |
| Australian Open | W | W | W | QF | QF | W | R4 | R1 | R1 | - |
| French Open | SF | RU | SF | QF | R3 | SF | SF | QF | R2 | - |
| Wimbledon | RU | SF | W | SF | QF | R2 | SF | R4 | R3 | - |
| US Open | RU | RU | W | RU | SF | SF | RU | R3 | R3 | - |