Novak Djokovic Player Profile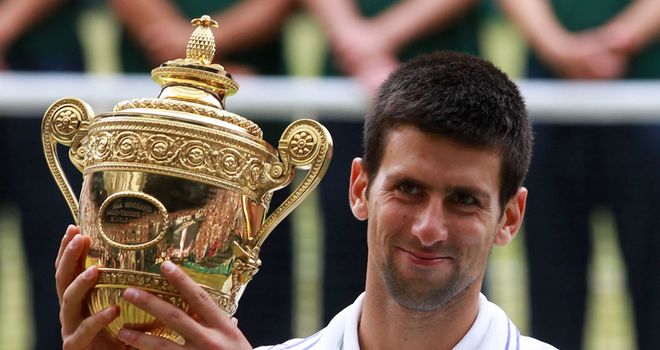 Novak Djokovic: Took Wimbledon title back in 2011
Djokovic has by and large been the man to beat this year but rival Rafael Nadal struck an important psychological blow against him in the French Open final.
The Serbian finished 2013 very strongly and, apart from a shock loss to eventual champion Stanislas Wawrinka at the Australian Open, continued his good form at the start of this year.
Winning the Masters 1000 events in Indian Wells and Miami established him as the form player in the early stages of the campaign and he was going well in Monte Carlo before being hampered by a wrist injury.
Following a three-week lay-off he returned in style by winning the Rome Masters but subsequently missed out on history when Nadal prevented him from winning a career Grand Slam at Roland Garros.
Djokovic has reached the Wimbledon final twice, winning the tournament during his miraculous 2011 season and losing to Andy Murray in straight sets last year.
The 27-year-old, whose main attributes are his backhand and amazing movement around the court, has not played an ATP Tour match on grass this year having opted to sit out the warm-up events.
Player Details
Nationality: SRB
Date Of Birth: May 22, 1987
Became Pro: 2003
Height: 1.9 m
Recent Results

| Date | Opponent | Tournament | Round | Result | Score |
| --- | --- | --- | --- | --- | --- |
| 06/07/14 | R Federer | All England Lawn Tennis Championships | F | Won | 7-67, 4-6, 6-74, 7-5, 4-6 |
| 04/07/14 | G Dimitrov | All England Lawn Tennis Championships | SF | Won | 4-6, 6-3, 6-72, 6-77 |
| 02/07/14 | M Cilic | All England Lawn Tennis Championships | QF | Won | 1-6, 6-3, 7-64, 2-6, 2-6 |
| 30/06/14 | J Tsonga | All England Lawn Tennis Championships | R4 | Won | 3-6, 4-6, 6-75 |
| 27/06/14 | G Simon | All England Lawn Tennis Championships | R3 | Won | 4-6, 2-6, 4-6 |
| 25/06/14 | R Stepanek | All England Lawn Tennis Championships | R2 | Won | 4-6, 3-6, 7-65, 6-75 |
10 Year Grand Slam History

| | 2014 | 2013 | 2012 | 2011 | 2010 | 2009 | 2008 | 2007 | 2006 | 2005 |
| --- | --- | --- | --- | --- | --- | --- | --- | --- | --- | --- |
| Australian Open | QF | W | W | W | QF | QF | W | R4 | R1 | R1 |
| French Open | RU | SF | RU | SF | QF | R3 | SF | SF | QF | R2 |
| Wimbledon | - | RU | SF | W | SF | QF | R2 | SF | R4 | R3 |
| US Open | - | RU | RU | W | RU | SF | SF | RU | R3 | R3 |
Features