Marin Cilic Player Profile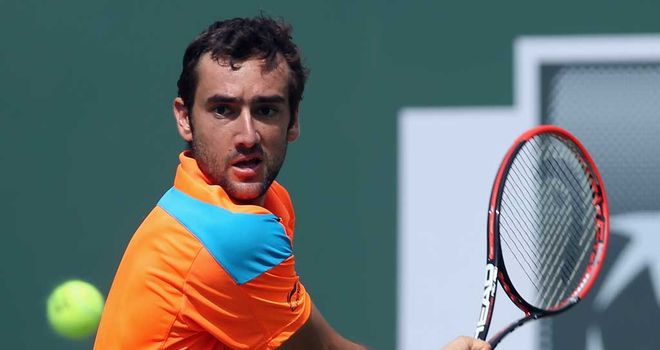 Marin Cilic: Climbing back up rankings after doping suspension
Cilic is now a seasoned veteran with plenty of success on the ATP Tour but the Croatian has enjoyed only fleeting success at the grand slams.
The 25-year-old has taken a total of 11 titles in his career so far, two of which have been won this year – in Zagreb and Delray Beach.
But Cilic, who was banned for four months last year due to a doping offence, has enjoyed all of his success in ATP 250 tournaments – the lowest category on the Tour.
His best result at a major was at the 2010 Australian Open, where he reached the semi-finals. He has reached the last eight of the US Open twice before and also reached that stage at Wimbledon this year before bowing out to Novak Djokovic.
Cilic uses his 6ft 6in height to generate massive power on his serve and hits flat, aggressive groundstrokes through the court.
Player Details
Nationality: CRO
Date Of Birth: September 28, 1988
Became Pro: 2005
Height: 1.98 m
Recent Results

| Date | Opponent | Tournament | Round | Result | Score |
| --- | --- | --- | --- | --- | --- |
| 08/09/14 | K Nishikori | US Open | F | Won | 6-3, 6-3, 6-3 |
| 06/09/14 | R Federer | US Open | SF | Won | 3-6, 4-6, 4-6 |
| 04/09/14 | T Berdych | US Open | QF | Won | 6-2, 6-4, 7-64 |
| 02/09/14 | G Simon | US Open | R4 | Won | 7-5, 6-73, 4-6, 6-3, 3-6 |
| 31/08/14 | K Anderson | US Open | R3 | Won | 3-6, 6-3, 3-6, 4-6 |
| 29/08/14 | I Marchenko | US Open | R2 | Won | 6-72, 2-6, 4-6 |
10 Year Grand Slam History

| | 2014 | 2013 | 2012 | 2011 | 2010 | 2009 | 2008 | 2007 | 2006 | 2005 |
| --- | --- | --- | --- | --- | --- | --- | --- | --- | --- | --- |
| Australian Open | R2 | R3 | - | R4 | SF | R4 | R4 | R1 | - | - |
| French Open | R3 | R3 | R3 | R1 | R4 | R4 | R2 | R1 | - | - |
| Wimbledon | QF | R2 | R4 | R1 | R1 | R3 | R4 | R1 | - | - |
| US Open | - | - | QF | R3 | R2 | QF | R3 | - | - | - |
Features