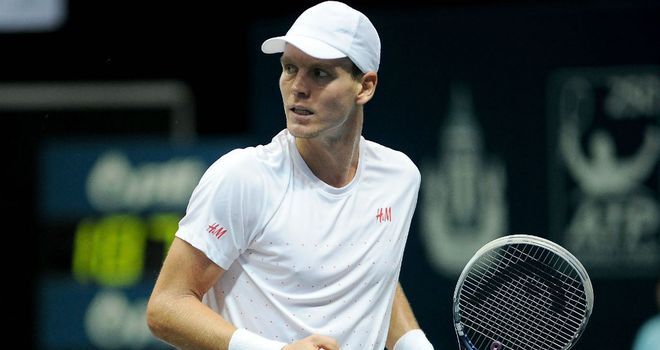 Tomas Berdych: Has not managed to win a tournament in 2013
The Czech hit the headlines three years ago at Wimbledon when, after stunning Roger Federer and Novak Djokovic, he fell at the final hurdle to Rafael Nadal in straight sets.
But since then the 27-year-old has failed to keep pace with the game's elite and his head-to-head records with Djokovic (2-14), Federer (6-11) and Nadal (3-16) make for dismal reading.
Berdych enjoyed a career-best season in terms of ATP titles won last year - tasting silverware in Stockholm and Montpellier - but has not managed to add to his tally in 2013.
His qualification for London has been built on quarter-final appearance at the Australian Open and Wimbledon and reaching the semi-finals of four Masters 1000 events.
The Czech has struggled to keep up that form late in the season but if he finds a rhythm, his huge groundstrokes could prove to be a danger to any player in the draw.
Player Details
Nationality: CZE
Date Of Birth: September 17, 1985
Became Pro: 2002
Height: 1.96 m
Recent Results

| Date | Opponent | Tournament | Round | Result | Score |
| --- | --- | --- | --- | --- | --- |
| 17/11/13 | N Djokovic | Davis Cup World Group Final | Match 4 | Lost | 4-6, 6-75, 2-6 |
| 16/11/13 | I Bozoljac & N Zimonjic | Davis Cup World Group Final | Match 3 | Won | 6-2, 6-4, 7-64 |
| 15/11/13 | D Lajovic | Davis Cup World Group Final | Match 2 | Won | 6-3, 6-4, 6-3 |
| 08/11/13 | R Nadal | Barclays ATP World Tour Finals | Grp A | Lost | 4-6, 6-1, 3-6 |
| 06/11/13 | D Ferrer | Barclays ATP World Tour Finals | Grp A | Won | 6-4, 6-4 |
| 04/11/13 | S Wawrinka | Barclays ATP World Tour Finals | Grp A | Lost | 6-3, 6-70, 6-3 |
10 Year Grand Slam History

| | 2013 | 2012 | 2011 | 2010 | 2009 | 2008 | 2007 | 2006 | 2005 | 2004 |
| --- | --- | --- | --- | --- | --- | --- | --- | --- | --- | --- |
| Australian Open | QF | QF | QF | R2 | R4 | R4 | R4 | R2 | R1 | R2 |
| French Open | R1 | R4 | R1 | SF | R1 | R2 | R1 | R4 | R2 | R1 |
| Wimbledon | QF | R1 | R4 | RU | R4 | R3 | QF | R4 | R3 | R1 |
| US Open | R4 | SF | R3 | R1 | R3 | R1 | R4 | R4 | R3 | R4 |