Baltacha announces retirement
Last Updated: 19/11/13 3:38pm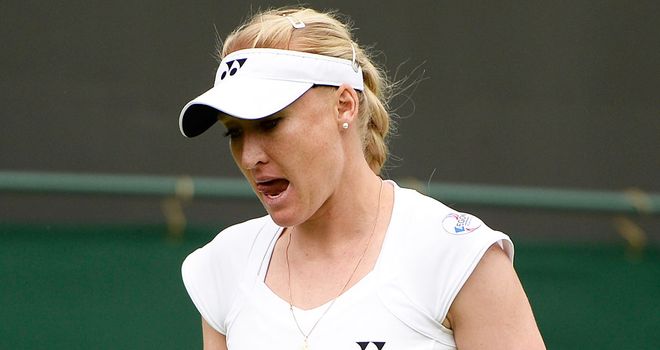 Baltacha: Calls time on pro career
Former British number one Elena Baltacha has announced her retirement but insists the future of women's tennis in Great Britain is in good hands.
Thirty-year-old Baltacha was Britain's top-ranked player for 132 weeks between 2009 and 2012 but the constant wear and tear caused by playing and training has caused damage to her ankles which meant she could no longer continue at the level she wanted.
The Scot has called time with a career-high ranking of 49 and a trio of grand slam third-round appearances to her name, as well as 39 caps for Great Britain in the Fed Cup.
It was while on international duty that Baltacha was able to take a close look at the new wave of British females - the high-profile Laura Robson and Heather Watson, as well as the likes of Johanna Konta and Tara Moore - and she was pleased with what she saw.
For so long it was Baltacha and Anne Keothavong heading up the women's game in Britain, but with the latter also now retired, the onus is firmly on the young blood and Baltacha is sure they are up to the job.
"I think British tennis is in a great state," she said. "You look at Laura and Heather, you have Jo Konta who is now on the verge of being something special as she's very gifted and talented and you have Tara Moore who can be dangerous."
Although the Baltacha-Keothavong rivalry was never one to trouble the game's leading players, it did at least mean there was competition within women's tennis in Britain and Baltacha would now like to see new battles take place.
"When I think back to when me and Anne played, we didn't have anyone in the top 100. When me and Anne were fighting it out we helped push each other," she said.
"I am so grateful Anne was around because we wanted to top what each other did and it helped us maximise ourselves. The way we have left the game, it is in a healthy state. Laura and Heather are very young, the same with Jo and with Tara and they will keep getting better."
Baltacha's immediate priority now is to concentrate on developing junior players at her academy which is based in Ipswich.
She admits to having long-term goals in coaching but is happy to throw all her efforts into the academy as she adjusts to life without playing.
"It really is the right time for me to go," she said. "I go with no regrets. I still love competing and I would love to carry on, but my body, after throwing it around the court for 16 years, my body has now had enough.
"After the US Open I had problems with my left ankle. I had right ankle surgery last year and discussed doing my left as well but decided not to. After the US Open it started getting really bad. I took a couple of months off and basically the option was to have an operation; that's pretty serious. I couldn't train how I wanted to and for me that's a massive thing.
"It's not the fact I don't enjoy tennis, I still love it and love competing - that was my favourite part, the one-on-one gladiatorial battle, and I loved it. I also enjoyed the lifestyle and it's not because I don't feel like that anymore, but because I don't want to be one of those who stays on tour and can't be how they want. I have to be 100 per cent with everything I do and if I can't then there is no point carrying on.
"I have my academy and that is something which is a natural next step for me to carry on, find opportunities for the kids and that's what I will be doing next."
---
New Sky Bet customers: Claim free £5 bet every week
---