Novak Djokovic: Serb could call the shots at start of 2014 season
Barry Cowan says early 2014 will be fruitful for Novak Djokovic and crucial for Juan Martin Del Potro.
By Barry Cowan
Last Updated: 17/12/13 11:15am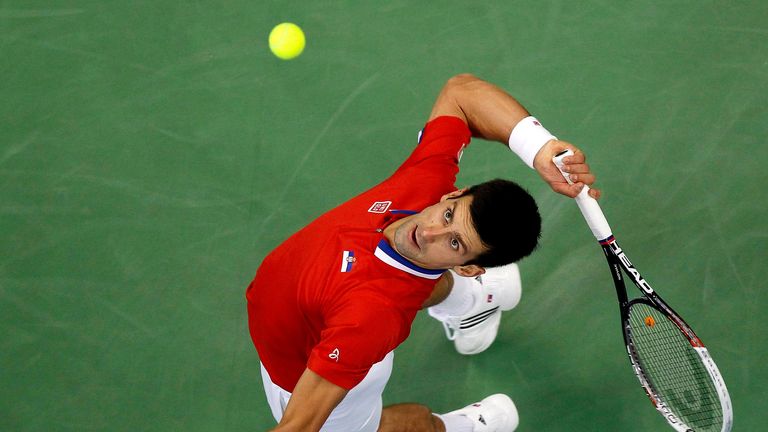 Andy won Wimbledon, which he had strived for years to do, while Nadal had a career year - 10 tournament victories, two Grand Slams - and probably surpassed his own expectations, so it is very hard to separate those two.
But Djokovic, despite winning the Australian Open, the ATP World Tour Finals and seven events in total, will be looking at his campaign with a sense of 'What could I have done?'.
One game - when he was 4-3 up in the fifth set of his French Open semi-final with Nadal - defined his and Rafa's entire year and if Novak had won it and, subsequently, earned victory in the match, the Serb would have won the final against David Ferrer.
That could have catapulted him to the Wimbledon title and put a different complexion on his season as well as Murray's - but I also think that, of the top three, Djokovic has the least to worry about heading into 2014.
There are question marks over whether Rafa will be able to back up what he did in 2013 - and the chances are he won't because those years don't come about too often - while we also don't know how Andy will recover from the back injury that ruled him out of the World Tour Finals.
Roger Federer is probably the one player who can win big matches if he is not 100 per cent fit, but because Andy relies so much on his fitness, his confidence takes a hit if he is even marginally below his optimum level, which he is likely to be upon his return.
Novak, though, has all the momentum at the minute after his stunning end-of-season from which, in addition to his win over Nadal at the O2, included triumphs in China and France and I really think he can maintain that.
Chaser
Djokovic, after ending successive seasons as world number one, felt the pressure and struggled a little mentally in the big matches in 2013, but I don't see that afflicting him next year now that he has been overhauled at the top of the rankings and is hunting down Rafa.
Novak seemed more relaxed in the autumn months in conditions that are tailor-made for him and he will be the player to beat at the first Grand Slam of 2014.
I believe Djokovic, Murray and Nadal will end the year in the top three positions - but I'm not sure we will see a definitive fourth-best player in the world emerge or someone compete with Novak, Andy and Rafa on a consistent basis.
I still see good tournaments from Roger but I don't see him being great consistently and getting to five or six finals in a row, and while Juan Martin Del Potro is the one you would earmark as the big three's biggest challenger, doubts remain.
We saw some very positive signs from Del Potro in 2013 but we also saw some worrying signs in the sense that he wasn't able to win the standout matches despite often playing really well in them.
He will take confidence from pushing the best but there comes a time when you have to beat them and he needs to shove that door open next year, and I feel the first two or three months of 2014 are as important for Del Potro as anyone else.
Surprised
David Nalbandian, though, will be absent from the tour next year after announcing his retirement - and while I never like using the word 'underachiever' to describe a player, perhaps you have to use it to describe the Argentine.
If you'd said to me 10 years ago Nalbandian would have ended his career without a Grand Slam title and without really establishing himself in that top four of five on a consistent basis, I would have been very surprised.
With his ability on all surfaces and the way he played the game - I remember on one occasion when he made Rafa look average - I thought he would have achieved more, although an appearance in a Wimbledon final and reaching four other Grand Slam semi-finals gives an indication of his class.
It is a brutal world at the top of the game and David has suffered from injuries over the last few seasons, but if he had the tenacity of Lleyton Hewitt - someone he had more talent than - he could have done so much more.
Another recent retiree, Elena Baltacha, also had injuries and illness to contend with, but towards the backend of her career established herself in the top 100 - and, because of her big serve, I think she had a little bit more in her and I'm sure she does, too.
You always want your best players to move into coaching roles and give something back and it seems like Elena is planning to do that, but going straight into that after years on the tour can be tough because it's more about when you say things than what you know.
Every player is different - some need an arm around them, some need a kick up the backside - and knowing how to deal with them only comes with experience, so if that's what Elena wants to do then she need someone to mentor her.
Something which, for me, has been lacking in the last 20 or 25 years in British tennis.