We've all heard about Rafa Nadal and Novak Djokovic, not to mention reigning champion Roger Federer and Andy Murray, but what about the outsiders that could shake things up at Wimbledon?
Tomas Berdych made a real impact at SW19 a few years ago when beating both Federer and Djokovic when making the final.
So who could upset the odds this time around? Let's look at five players outside of the top five in the rankings that could spring a surprise.
Stanislas Wawrinka (Sky Bet odds: 100/1)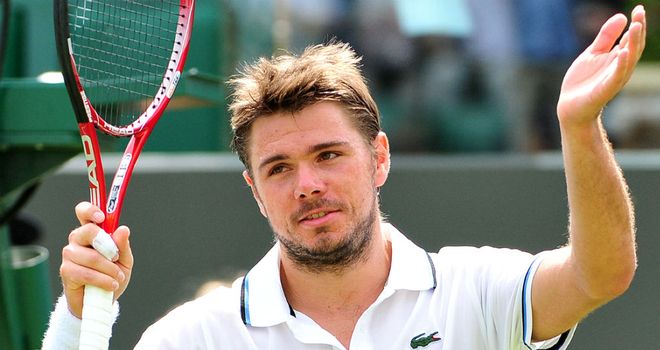 Stan could be 'The Man' this year because he is arguably having his best season. The Swiss No 2 is one of the outside contenders to break the monopoly of the top-ranked players at this year's remaining Grand Slams. Wawrinka is notable for giving opponents a hard game, not least on the grass. Andy Murray can testify to that! He also possesses one of the best single-handed backhands on tour. Wawrinka picked up the racquet at the age of eight and dropped out of school at the age of 15 in order to concentrate on playing tennis. In 2003 he won the Roland Garros junior title and hasn't looked back since. Magnus Norman - runner-up at the 2000 French Open and former world No 2 - is now mentoring the player and it seems that the Swedes' knowledge is already paying dividends. The 28-year-old's form has been up and down although he has climbed back into the top ten for the first time in five years after superb recent run of results. He won his first title since 2011 with his 20th victory of the year at the Portugal Open after upsetting top seed David Ferrer. However, his nine-match winning streak came to an end the following week after losing in the final of the Madrid Open to Rafael Nadal. He then reached the quarter-finals of the French Open for the first time in his career before losing in straight sets to the eventual winner Nadal, but after living in the shadow of Roger Federer for so long, it wouldn't be a surprise to see Wawrinka upset a few feathers at SW19.
Kei Nishikori (200/1)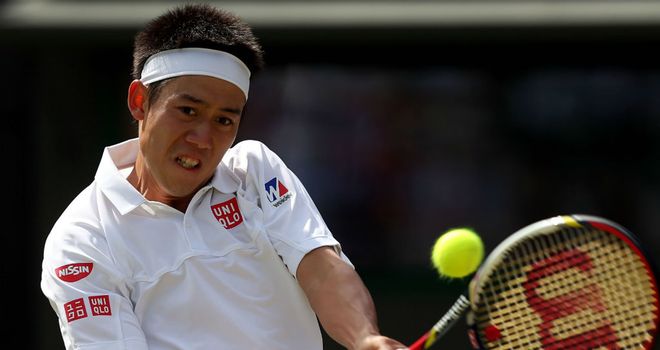 Japan's rising son was named ATP Newcomer of Year in 2008 and has since gone from strength to strength on the tour - climbing to a career high 15th ahead of this year's French Open. As a teenager, Nishikori moved to the USA without a word of English to practice the arts of tennis at the Bollettieri Acadamey in Florida. It wasn't long before he became the youngest player to win an ATP title since Lleyton Hewitt at the age of 16 years, 10 months, 18 days in Adelaide. By the end of the year he became first Japanese player to finish in the Top 100 since Shuzuo Matsuoka in 1995. In 2011, he compiled the best set of results of his career, finishing as world No 25 after reaching two ATP finals in Houston and Basel. Last year he won his second career title on home soil in Tokyo, but injury has held Nishikori back from making further progression after suffering problems with his elbow and abdominal muscle. This year his left knee has troubled him, but in February he won his third title in Memphis. The 23-year-old is slowly improving and recorded just his fourth win over a top five opponent when he shocked Roger Federer in Madrid with a three set win. He was recently stunned by Russian veteran Mikhail Youznhy in the second round at Halle, but that won't deter Nishikori who became the first Japanese man to reach the Wimbledon third round for 17 years last year - emulating Shuzo Matsuoka's run to the last 32 back in 1995. He will now be aiming to go one better this time around.
Ernests Gulbis (100/1)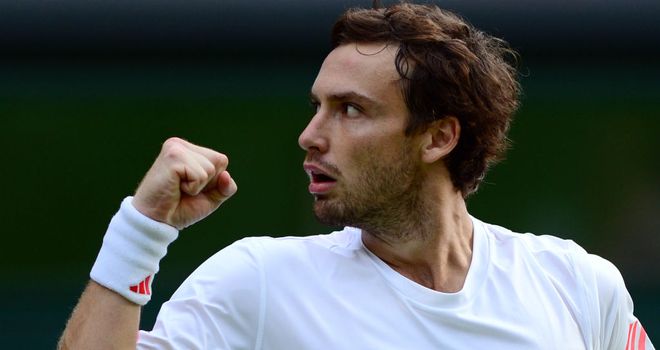 Gulbis comes from wealthy stock with his book-collecting parents naming him after Ernest Hemingway. His father is a wealthy investment banker while his mother is an actress. He attended the Niki Pilic academy in Munich as a teenager and became good friends with Novak Djokovic. However, he has since become somewhat of a tennis tearaway. There is no doubt he has the talent and pedigree to be in the world Top 10, but the Latvian prefers partying to practising. Gulbis seems to have discovered his best form in the past 15 months having raised his ranking over 100 spots this year, to No 31. Marat Safin's former coach Hernan Gumy now works with the 24-year-old and he has made a major improvement to his game. In February 2010 Gulbis won his first title at Delray Beach before a last eight spot in Barcelona. After reaching the semis in Rome he immediately flew home to Riga, arriving at one o'clock in the morning, before going straight to a nightclub. He does seem to have grown up since then having reached the quarter-finals in Bangkok and Doha and a semi-final in Sydney. The player, who was known for his huge serve was also used to smashing up to 70 racquets a year. He has since made a further breakthrough this year despite skipping the Australian Open due a longer off-season. Gulbis won his third career title at Delray Beach and his first since 2011 before embarking on a 13-match winning streak which came to an end against Rafael Nadal at Indian Wells. The Spaniard also got the better of him in the quarter-finals of the Italian Masters, despite Gulbis taking the opening set 6-1. He went on to lose to Gael Monfils at the French Open before the wild child of tennis launched a tirade at the top male players, calling them "boring". Gulbis more recently lost in the last 16 of Halle to veteran German Tommy Haas. We don't quite know which character will turn up in west London, but Gulbis is sure to thrill the crowds nevertheless.
Marin Cilic (80/1)
Former Queen's Club champion Cilic is a Wimbledon dark horse and has even had World No 2 Andy Murray claiming that he is "one of the best grass court players in the world". Cilic was ranked No 2 junior in world in 2005 and won four international junior titles, including the French Open. Since then his rise to the top has come in a short space of time. Within three years he finished as his country's top player after reaching No 22 in the rankings. It seems that they like to grow them tall in Croatia too because at 6ft 6in and 13 stone Cilic now has nine career titles to his name - including three in Zagreb. He is edging ever nearer to the big name players in the men's game at a pivotal time in his career. The 24-year-old reached the quarter-finals of the US Open in 2009 and 2012. He reaches the semis of the Australian Open in 2010 with back-to-back five set wins over Juan Martin Del Potro and Andy Roddick before losing to old adversary Murray. Cilic will be hoping to follow in the footsteps of another Croatian and former Wimbledon winner - Goran Ivanisevic. The 6ft 4in player was runner-up at the All England Club three times before securing a memorable victory as a wildcard entry in 2001 - and Cilic will also be aiming for a grand slam title by the time his career comes to an end.
Gilles Simon (400/1)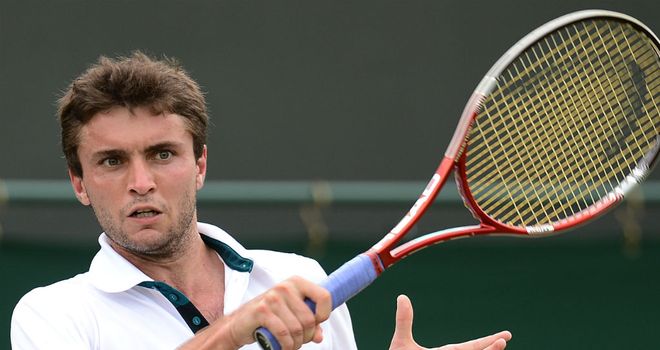 Gilou's biggest inspiration growing up was Michael Chang because the American proved that you didn't have to be tall to win titles. The Frenchman still stands at just over six-foot, but there have been concerns over his lack of stamina and durability on court. He regularly won Futures and Challenger level tournaments as a youngster and quickly claimed ATP titles when he turned professional. He hit a career high of sixth in the world back in 2009 and reached the last 16 of Wimbledon. The following year he reached the quarter-finals in Eastbourne before exiting Wimbledon in the third round defeat to Andy Murray. His consistent game is a strong one and it has caused certain players plenty of problems in the past such as Roger Federer. At Roland Garros this year the 28-year-old gave the Swiss ace a fright by taking a two sets to one lead before going down in a five-set epic. He may be better remembered by some for his outspoken comments at last year's tournament when he claimed that men deserve higher prize-money than women. Now ranked at 17 in the world, Simon may always be seen in the shadow on Jo-Wilfred Tsonga, but he should not be written off from causing an upset or two at SW19 this summer.
Lukas Rosol (300/1)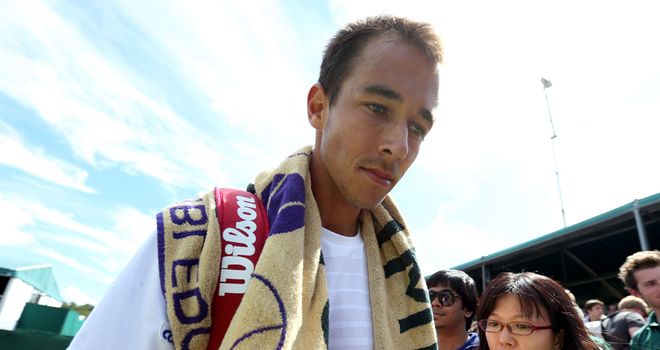 The doubles specialist is most famous for playing Rafael Nadal off the lawn at Wimbledon last year. A result which can best be described as one of the biggest upsets in grand slam tennis. At 6-foot-5, the 27-year-old ball punisher from Brno played an integral part in the Czech Republic's Davis Cup victory in 2012. After winning six Challenger and seven Futures tournament, he went out of the Australian Open to Canadian Milos Raonic in the second round. But in April, he won his first career ATP title in Bucharest. The unseeded Rosol beat the likes of Andreas Seppi, Viktor Troicki and Gilles Simon to reach the final before dispatching Guillermo Garcia-Lopez in the final. Victory moved him up from No 48 to 34 in the world. Not bad considering he was ranked No 79 just a year ago. The Brno-born player enjoys a high-risk, high-reward game with big serves and fierce groundstroke play. Nadal can testify to that because Rosol clubbed 65 winners - including 22 aces - in that memorable 6-7 (11-9), 6-4, 6-4, 2-6, 6-4 victory over the Spaniard at SW19. After his success in Romania earlier this year, the big-hitting Czech will look to play his high risk game again and cause another huge upset if he is given the opportunity.