Raz remembers...
Our tennis expert Raz Mirza takes a trip down memory lane to recall his 10 most memorable Wimbledon matches
By Razwan Mirza - Tweet me: @RazMirza. Last Updated: 22/06/13 5:20pm
Sky Sports tennis expert Raz Mirza takes us back in time as he recalls his 10 most memorable Wimbledon matches of all-time.
The fourth-set tie-break between John McEnroe and Bjorn Borg in the 1980 final. That's all my mum would talk about every summer as I dusted down my racquet, ready to replicate Boris Becker's classic dive volley in my local park.
The only time I could watch that match was when it rained at SW19, and Wimbledon seems to have a bit of history when it comes to weather in late June. Sir Cliff Richard can testify to that!
On the plus side, it gave me an opportunity to glue my eyes to the TV and watch some classic matches from yesteryear and that was it - I became instantly transfixed to this wonderful sport.
Here, I recall my 10 most memorable matches from the greatest tennis tournament of them all...
Boris Becker v Kevin Curran - 1985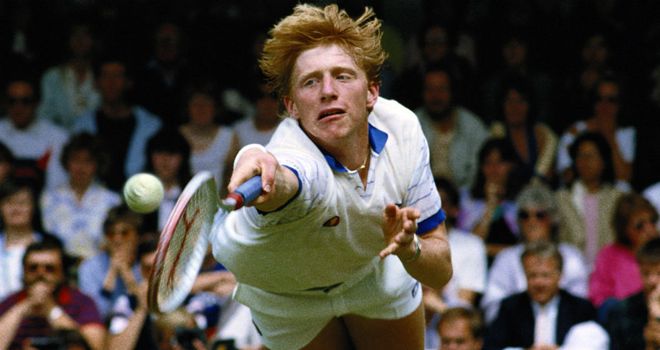 A fresh-faced Boris Becker defeated Kevin Curran to win the title in 1985
On July 7, 1985, a 17-year-old boy by the name of Boris Becker won Wimbledon. What an achievement it was for this teenager, who became the first unseeded player to win the tournament, and the first German. But it might have been so different. In the third round, he came through 9-7 in the final set against Joakim Nystrom, and he then turned his ankle in the fourth round against Tim Mayotte but eventually came through in five sets. His opponent Kevin Curren had already knocked out legends John McEnroe and Jimmy Connors en route to the final. And in a very heated and intense Centre Court, Becker showed all his athleticism to come through in four sets 3-6 7-6 6-7 4-6. When he went back to his home town Leimen, 50,000 people had turned out to greet him. Becker successfully defended his title the following year, defeating world No. 1 Ivan Lendl before claiming a hat-trick of titles in 1989 against Stefan Edberg.
Pat Cash v Ivan Lendl - 1987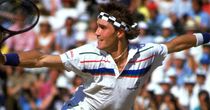 Australian ace Pat Cash was a big hit with the Wimbledon crowd
This was beyond doubt the crowning moment for everybody's favourite bandana wearing Australian - well, apart from Jason Donovan. Having already beaten Mats Wilander in the quarter-finals and Jimmy Connors in the semi-finals, the 11th seed defeated World No. 1, Lendl, in the final in straight sets 7-6 6-2 7-5. Accomplished guitarist Cash had only lost one set during the entire tournament. But the match is best remembered for his unique celebration as he showed complete disregard for All England Club protocol by climbing up into the stands with the help of spectators and up to the player's box at Centre Court, where he was greeted by his family, girlfriend, and coach, Ian Barclay.
Jeremy Bates v Guy Forget - 1992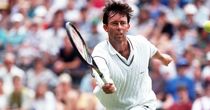 Jeremy Bates lost to Guy Forget in the fourth round twice
Jeremy Bates was Britain's answer to Tim Henman and Andy Murray back in the early 90s. As a singles player, he reached the fourth round at Wimbledon twice - in 1992 and 1994 - but sadly for him, and for us, he came up against France's Guy Forget on both occasions. The 1992 encounter will always be remembered as gallant Bates - inspired by the crowd, the cheers and fluttering Union flags, held a match point in the fourth set, but failed to convert it and ended up losing in five 7-6 4-6 6-3 6-7 3-6. The following year 263rd ranked Chris Bailey held match point at 6-5 in the final set on Goran Ivanisevic's serve. The Croatian faulted on his first serve and then served a let before hitting a second serve ace and then going on to clinch his place in the third round. Only at Wimbledon, it seems, can defeat be as glorious as victory!
John McEnroe & Michael Stich - 1992
The unlikely pair of John McEnroe and Michael Stich won the men's doubles
This match took up two days, was played on two different courts and required a five-hour effort, but the unlikely pairing between John "you cannot be serious" McEnroe and the previous year's singles champion Michael Stich came up trumps as they claimed the Wimbledon doubles championship by defeating the fourth-seeded duo Jim Grabb and Richey Reneberg in an epic five-set encounter 5-7 7-6 3-6 7-6 19-17. In a darkening Court 1 on Sunday night, the final set was tied at 13 games all before referee Alan Mills suspended play, much to everyone's annoyance. The following afternoon 33-year-old New Yorker McEnroe served out the match in the 36th game of the fifth set to claim his eighth and final Wimbledon title.
Steffi Graf v Jana Novotna - 1993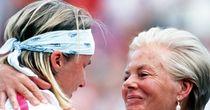 Jana Novotna gets a hug from the Duchess of Kent after defeat in the final
This was Graf at her imperious best as she claimed her third consecutive title and her fifth overall by showing all her fighting spirit as she came from a double break down in the third set to reel of five games in a row and win 7-6 1-6 6-4. Her triumph, however, was overshadowed by her Czech opponent during the trophy presentation as Novotna cried her eyes out on the Duchess of Kent's shoulder. The Duchess said: "Don't worry Jana. I know you can do it." Then the tears flowed. But she did do it, albeit, at the third time of asking against Nathalie Tauziat in 1998.
Tim Henman v Paul Haarhuis - 1997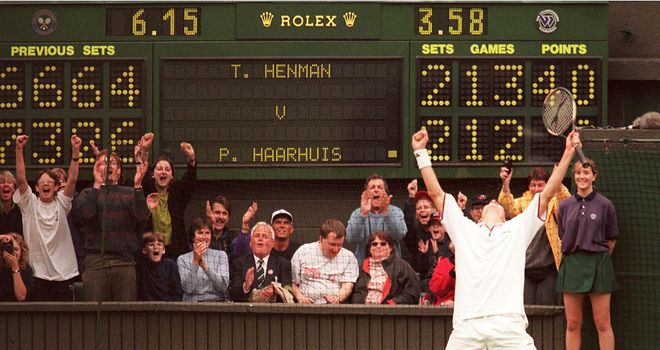 Tim Henman was involved in a five-set epic on 'Super Sunday'
The British No 1 put fans through the emotional ringer on 'Super Sunday' in a third round clash which was filled with pure drama. Many of the 14,000 fans had queued overnight to get in and despite an scrappy contest full of unforced errors and double faults, the patriotic crowd on Centre Court cheered every Henman winner. He eventually prevailed in a 93-minute deciding set 6-7 6-3 6-2 4-6 14-12. The British public and press soon jumped on the 'Tiger Tim' bandwagon as everybody felt he could actually go on and become the first home-grown player to win Wimbledon since Fred Perry in 1936. Unfortunately he went on to lose to Michael Stich in the last eight and despite reaching four Wimbledon semi-finals after that, sadly for us, he lost them all!
Roger Federer v Pete Sampras - 2001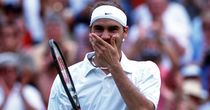 Young Swiss ace Roger Federer was in tears after beating Pete Sampras
Some say that this match was the making of one legend and the end of the road for another. The 19-year-old Swiss prodigy ended the reign of seven-time champion 'Pistol Pete' in a high quality five-set encounter 7-6 5-7 6-4 6-7 7-5. Federer, who was 11-years-old when the American won his first title showed what a calm and composed talent he was by possessing all the ability, the requisite foot speed, and a deadly arsenal of shots. It was Sampras' earliest exit in ten years of the championships and it was the first time he had lost a five-set match at Wimbledon. He would never win another championship at SW19 again. As for Fed, this was just the beginning of something very special.
Goran Ivanisevic v Pat Rafter - 2001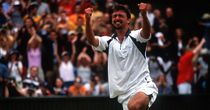 Big serving Croatian Goran Ivanisevic claimed the title in 2001
As a three-time runner-up, Ivanisevic was awarded a wildcard for entry into the singles draw. Nobody had given him a hope, but he defeated former and future World No 1 players Carlos Moya, Andy Roddick and Marat Safin in the early rounds. In the semi-final he ended Tim Henman's dream in a dramatic, rain-affected five set match, which many believe the Briton lost because of the lap of the gods. Ivanisevic set-up a match with the previous year's runner-up and former US Open champion Pat Rafter. In a titanic tussle, stomachs churned as the raucous crowd were entertained to a see-saw battle. The big serving Croatian missed three match points before calling for the same ball as he looked to see out the match on his almighty serve. He did eventually prevail 6-3 3-6 6-3 2-6 9-7 to a cacophonous noise. Ivanisevic lifted his eyes to heaven and kissed the ball after victory. Upon his return to his home city of Split a crowd of over 150,000 led by local and state dignitaries greeted him.
Andy Murray v David Nalbandian - 2005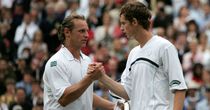 A young Andy Murray gave experienced David Nalbandian a real test
This was the start of something special as Andy Murray announced his arrival at Wimbledon. The 18-year-old wildcard entry ranked 312 in the world defeated George Bastl (the last man to have played and beaten Pete Sampras at the grass-court slam) and 14th seed Radek Stepanek in the opening two rounds in straight sets, but sadly his run ended in heartbreak with a 6-7 1-6 6-0 6-4 6-1 defeat to 2002 Wimbledon finalist David Nalbandian on his Centre Court debut. The Scot appeared to be cruising until cramp and fatigue set in. Sounds familiar doesn't it! And despite a valiant effort, the experienced Argentine prevailed. Murray proved his world-class potential as he plodded off Centre Court to an overwhelming ovation.
Rafael Nadal v Roger Federer - 2008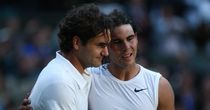 Federer and Nadal embrace after a titanic battle in darkening skies
Arguably the greatest match of the modern era at SW19. Rain delays, epic tie-breakers, and the end to Federer's record streak of five Wimbledon titles. This was pure theatre. These two adversaries pushed each other to their limits, but it was the Spaniard who ended the Swiss star's reign at the All England Club in near darkness on Centre Court. Federer did not have his night-vision goggles and proved to be human after all. Nadal became the first man since Bjorn Borg in 1980 to win the French Open and Wimbledon titles back-to-back. He had missed two championship points in the fourth set but he came through to win a dramatic rain-interrupted match 6-4 6-4 6-7 6-7 9-7. Fed was attempting to become the first man in the modern era to win a sixth successive title, but the then 22-year-old Majorcan sealed victory on his fourth match point in four hours and 48 minutes at 9.16pm in south-west London to bring an end to the Swiss's domination of the grass, and bring Nadal his first grand slam title outside Roland Garros.