A New opportunity
'Early momentum key for Murray in bid for first Grand Slam title'
By Mark Petchey. Last Updated: 24/08/12 3:55pm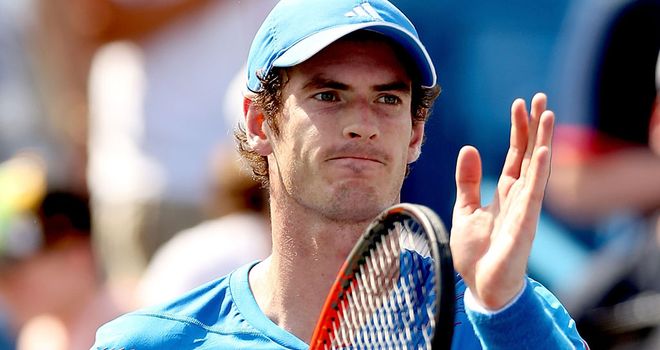 Murray: lost the 2008 US Open final in straight sets to Federer
Andy Murray should feel reasonably satisfied with his US Open draw as I don't foresee any dangers in the opening three rounds.
LIVE ON SKY SPORTS
US Open - day one
4pm, Mon, Sky Sports 2 HD
Watch on the move with
Sky Go
"As good as Novak is on grass, he takes it to a whole new level when he plays on a hard court and he starts as my slight-favourite for that reason alone."
Mark Petchey Quotes of the week
Although he lost to his first opponent Alex Bogomolov in Miami last year, Andy has carved the Russian up pretty comfortably on the two occasions that the players have met since.
Conditions at Flushing Meadows can be changeable, so we'll have to wait and see how the big stadium courts play once the tournament begins, but the Olympic champion should make it through easily enough to the fourth round where he could face Milos Raonic.
The Canadian has got a big game and is a bit of a wildcard at this stage of his career. His big serve means he's always going to be a threat and he certainly won't be intimidated by Andy.
The same goes for fifth-seed Jo Wilfried-Tsonga, who is also in Andy's quarter - even though Andy has a great record against the Frenchman having won six of their seven meetings including the last five.
Tsonga had his best Open last year when he reached the quarters and it's obvious that he enjoys New York - an important ingredient if you want to do well here.
Some people relish the 'madness' that goes on in the city, while others don't. Tsonga belongs in the former camp. He may be completely calm off the court but on it he's a bit of a showman who loves to play to the crowd.
Potentially this could be a difficult match for Andy but based on the head-to-head record between the two you'd still expect him to progress to the quarter-finals.
Tougher
Although he'd probably disagree with me, I think Andy's best surface at the moment is grass.
He's one of the best movers on grass in the game - up there with Roger Federer - but more players come into the mix on a hard court simply because more have grown up on it.
As good as Novak is on grass, he takes it to a whole new level when he plays on a hard court and he starts as my slight-favourite for that reason alone.
Novak actually has one of the tougher draws with the likes of Stanislas Wawrinka and Alexandr Dolgopolov lurking in his quarter, not to mention Juan Martin del Potro.
The Argentinian is one player I think most people would want to miss but at the moment the great unknown is we're not 100 per cent sure how much his wrist is troubling him.
Rafael Nadal's absence has certainly opened up an avenue for someone to come through.
Fourth seed David Ferrer obviously now has a better chance of making the semi-finals because he won't have to play one of the world's top four in the quarters.
Novak also benefits but for Andy and Roger it doesn't really change anything. They will still probably square up against each other in the semis for the right to face Novak in the final.
Competitor
One of the things that remains quite amazing about Roger is how easy it seems for him - whether it is or it isn't - to overcome losses.
Twelve months ago he suffered one of his most devastating defeats in a major when he lost to Novak in the semi-finals after having two match points serving for the match.
I interviewed him yesterday on Fifth Avenue and, reflecting on that defeat, he said he went back and thought about why he lost - was it something he wasn't doing or was it just one of those periods of his life when he just lost a match?
He was quite philosophical and simply went back to the drawing board and now he's coming into the Open as the World No 1 again with another Wimbledon title to his name.
It's phenomenal how he's been able to roll with the punches. Some people will argue that it's always a lot easier when you have the majors in the bank but at the age of 31 he's still a vicious competitor and those losses still hurt.
Physically and mentally he goes into the tournament in good shape; he's excited about how he's playing.
For the first time he's won a title without dropping his serve - in Cincinnati - and his draw looks relatively straightforward so it's all good from his perspective.
I think he'll be fairly happy with how things are turning out.