Murray - Roof policy is tricky
Briton has sympathy for officials over use of Centre Court roof
Last Updated: 01/07/12 8:55pm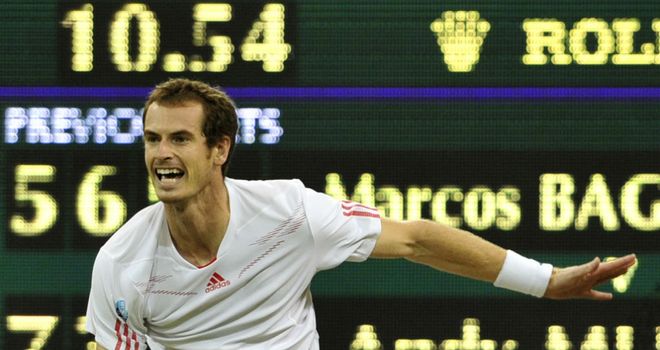 Andy Murray: Finished late into the night on Centre Court against Marcos Baghdatis
Andy Murray believes Wimbledon's Centre Court roof policy is still very much a work in progress following his late-night victory on Saturday.
The world number four became the latest winner in Wimbledon history when he completed his 7-5 3-6 7-5 6-1 victory over Marcos Baghdatis at 11.02pm to move into the fourth round.
The roof has been a real feature of a dramatic first week at the All England Club, with Centre Court covered while Rafael Nadal lost to Lukas Rosol and when Roger Federer fought back from two sets down against Julien Benneteau.
It looked very much like Murray would have to return on Monday to finish the contest as the clock reached 11pm, Wimbledon's curfew, but, with the Scot poised to serve for the match, he was allowed to carry on and duly wrapped up victory in a raucous atmosphere.
Tomorrow Murray will face Croatia's Marin Cilic, who beat the clock himself on Court Two, completing a five-set win over Sam Querrey that went to 17-15 in the decider.
Wimbledon chiefs have come in for criticism for the way they have used the four-year-old roof, particularly on Friday when it was on for the whole day despite there being little rain.
But Murray insists he has some sympathy for officials, stating: "With the roof there's always going to be some difficult situations for the tournament director or the referee. Yesterday's match was a perfect example.
"Do we start the match with the roof on so there's no delays? On Friday I think they got criticised quite a lot because it didn't rain at all and the roof was shut the whole day, when it shouldn't have been, because it's obviously meant to be an outdoor event.
"I think that was probably one that they might have made a mistake on. Apart from that, people want to see tennis. If it does rain, having the roof is a huge benefit because there is always guaranteed matches going on.
Difficult situations
"There are always going to be difficult situations when you only have one court with the roof, because obviously for me now it's an advantage that I got the match finished.
"Other years I would have had to play three sets on Monday. Cilic played 17-15 in the fifth set. I'm sure he would have rather I was having to play three sets on Monday before playing against him."
Murray will face Cilic with the giant Croatian on an eight-match winning streak on grass after benefiting from David Nalbandian's moment of madness in the AEGON Championships final at Queen's Club.
Cilic also knows what it is like to beat Murray at a grand slam having ousted him in the fourth round of the US Open in 2009 - his only victory in six meetings with the British number one.
Murray got his own back the following year when he beat Cilic to reach his first Australian Open final, and he said of his next opponent: "It will be important for me to try to get off to a good start. If you are feeling a little bit tired and you go behind, it can be tough to come back."
The Scot slipped over a number of times during the Baghdatis match and emerged for the third set under the roof with strapping on his left knee, but he is confident there is no lasting damage.
"There's nothing I'm too worried about," he added. "I've got a few bumps and bruises. I fell quite a lot more than I normally do on the grass. I put a new pair of shoes on when the break came with the roof and I moved better after that."
Murray will practise later than usual on Sunday after his late finish and will then return to Wimbledon tomorrow for the Cilic clash, which is scheduled second on Court One, although rain could well disrupt play.