Karlovic: I feel cheated
Croat furious after string of foot faults against Murray
Last Updated: 28/06/12 10:50pm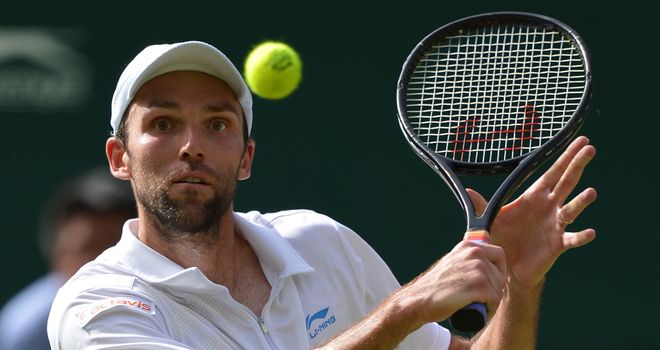 Ivo Karlovic: Claimed that officials were biased towards Britain's Murray
Ivo Karlovic has claimed that Wimbledon officials were biased towards Andy Murray after he was called for a string of foot faults in their second round tie.
The British number one came through 7-5 6-7 (7/5) 6-2 7-6 (7/4) against the biggest of big servers, recovering from dropping the second set to edge through in a fourth-set tie-break.
But Karlovic, at 6ft 10in the tallest player ever to be ranked in the top 100, was left furious and feeling "cheated" after the foot fault calls, which included one in the final tie-break.
"In my whole life, ever since I was eight years old, I didn't do this many foot faults," the 33-year-old said.
"It was never called when it was 30-0 or 40-0, it was always when it was 30-30 or in a tie-break. I mean, what is this? Is it Davis Cup or is it Wimbledon? After this match, the whole credibility of this tournament went down for me.
"After I don't know how many, I stood a little bit back so they could not call it and they still did. It was outrageous. It's Wimbledon, Centre Court, and they do this. I mean, this is BS.
"I feel cheated."
And pressed on whether he felt his treatment was because he was playing against the home favourite, Karlovic said: "Definitely."
Anger
He added that he was unsure whether he would make an official complaint but left no-one in any doubt as to how angry he was over the issue.
He added: "I don't know what I'm going to do.
"Right now I'm angry about it, a little bit p***** off, because I don't expect it here. Even though it is against the English (sic) guy who they always want to win, I don't expect it here."
Murray was diplomatic on the subject but admitted he had no idea whether the foot-fault calls were correct or not.
He said: "That's very tough to question the integrity of Wimbledon, I would have thought. It's got a lot of history, a lot of tradition. There's been hundreds of thousands of matches played here over the years. I've never heard that before.
"But I need to see the videos. If there were 11 foot faults called against him and every one was incorrect, then that's completely wrong and unfair.
"But for it to happen that many times, you would think there would have been a number of fairly obvious foot faults, because you don't really see them called that much nowadays.
"If it turns out that he wasn't foot-faulting, if I was him, I'd be very, very disappointed."