Morose on Murray
Time not right for Murray to win Wimbledon, says Greg Rusedski
By Tim Clement - Twitter: @SkyTimClement. Last Updated: 22/06/12 12:30pm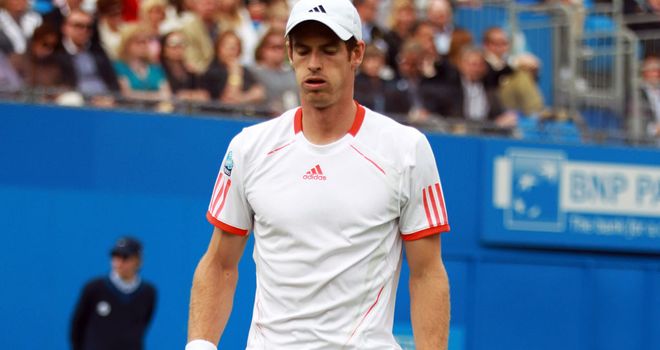 Andy Murray: Still in the hunt for first Grand Slam title
Greg Rusedski has talked down Andy Murray's chances of ending his wait for a Grand Slam title at Wimbledon this year.
The former British number one believes the game's top two, Novak Djokovic and Rafael Nadal, are currently operating at a level far superior to the rest of the ATP Tour.
The duo have shared the last nine major titles and contested all of the last four finals, while Murray has failed to progress past the semis at a Slam since his straight-sets defeat to Djokovic at the Australian Open last year.
Rusedski, speaking exclusively to skysports.com at the Liverpool International, said: "The big four became the big three and now it's become the top two with Novak and Rafa so dominant.
"I think Murray will probably get to the quarters or semis but he's got to get over the hurdle of back-to-back wins over Novak and Rafa.
"He has the ability but I don't see it as his time right now, he needs some more time with Ivan Lendl to put in the things that need to be changed."
The 1997 US Open finalist believes the influence of Lendl, who Murray appointed as his coach at the start of the year, will be predominantly mental as he looks to overcome the final hurdle at a Grand Slam, having lost in three previous finals.
"It's the mental side, everything is about the mental side," Rusedski added. "Lendl has been in the exact same position, losing in four major finals before winning his first one.
"They've got the same track record and Andy has always had the ability but needs to know how to get the job done, he's bringing the mental side which opens up all the facets."
Bright future
With hopes of a first British winner at SW19 since Virginia Wade's 1977 triumph once again pinned solely on the 25-year-old, questions continue to be asked of the LTA's ability to develop talent.
But Rusedski, who is currently working as a talent and performance ambassador for the LTA, believes progress is being made.
"There's a lot of initiatives and facilities are better, altogether the basis is very good," he added.
"Yes the numbers may have gone down but that's the case all around the world with the economic climate, be it golf or tennis.
"We won the junior Davis Cup for the first time in our history last summer, we won the Winter Cup with a different set of players and European Championships, so we actually did the treble which no other country has done before.
"So in the junior ranks things are looking positive but we're not looking all at results, we have had junior Grand Slam winners and numbers ones before but we have never had such a big group of them all at the same time, so that gives us a lot of hope."