Maturing Murray
Our man Down Under finds plenty of positives from Andy Murray's hard-fought win over Ryan Harrison.
Last Updated: 17/01/12 8:48pm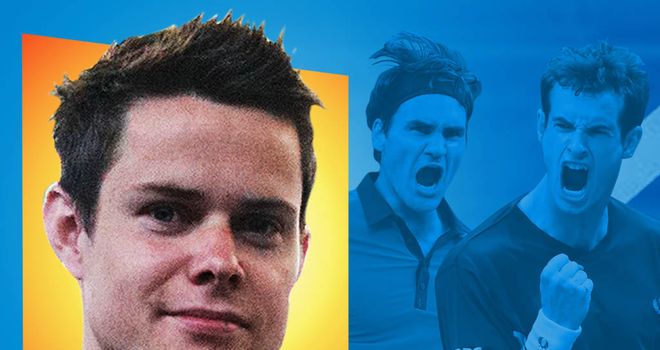 It may not have been the bagel-fest that Novak Djokovic produced, but Andy Murray's four-set win was arguably the more substantial victory as he kept frustrations at bay to make the second round at the Australian Open.
One set down and too many unforced errors, these are the occasions which have all too often brought the worst out of the British number one.
But this time there was an inner calm prevailing, the game plan remained and it worked.
Plenty predicted the young talents of Ryan Harrison would trouble Murray in their first meeting and so they did, with a shower of attacking strokes finding their way through Murray's normally impenetrable defence.
But Murray knew the percentages were on his side, and in the blistering heat it would take a small miracle for the world 77 to maintain his intensity.
That's why he's the world number four, he's mature enough now to know how to grind out wins against the up-and-comers, just like he did in Brisbane when Bernard Tomic started so brightly before fading away.
There is one obvious factor: a certain Ivan Lendl sitting in his box.
Murray looks up, sees his new coach and remembers there's no time for the barking of old, back to the game plan, back to making life as difficult as physically possible for the man on the other side of the net, not himself.
There was also the heat - touching 37°C. Murray admitted it had been a "shock to the system" - but it will certainly stand him in good stead come the second week of the tournament.
We'd be kidding ourselves in thinking it was a perfect win, but on days like this when the serve is failing to fire and the conditions are not kind, Murray did what he had to do and, most importantly, what he'd planned to do.
Aussies muted
The day after Bernanrd Tomic lit up Australian hopes with a stunning five-set comeback victory, the Rod Laver Arena was transformed into a scene of sorrow as Sam Stosur crashed out.
They feared it might happen, some even expected it, but they hoped at least that the US Open champion would carry their hopes beyond the first round.
For this year at least, Stosur represented Australia's best hopes of a first native winner of their home Grand Slam since the '70s following her triumph at Flushing Meadows in September.
But some time has passed since her New York heroics, and the form guide was pointing towards the actual outcome rather than the one that ignited dreams, with the world number five crashing out in the opening rounds at Brisbane and then Sydney.
Stosur admitted nerves had got the better of her as she passively allowed Sorana Cirstea to brush her aside, conforming to the home form that has seen her fail to make it past the fourth round in Melbourne, rather than producing a display of the ilk of her US Open run.
Gluten for punishment, the Aussies have thrown their remaining hopes, Tomic and Casey Dellacqua on the Rod Laver Arena for the night matches on Wednesday.
They'll be hoping the duo grow in front of their expectant nation rather than shrivel, as poor Stosur did today.
Tip time
Anyway, it's time for me to put my neck on the line with some tips after getting a glimpse of most of the big names.
After the first round I've got to say Viktoria Azarenka is looking primed to claim her first Grand Slam, while Rafael Nadal also looked sharp despite the injury concerns that have seen his price drift.
Azarenka, who brutally dismantled Heather Watson on Monday, is the women's 9/2 second favourite, while Nadal is 11/2 at the moment.
Pack them up in a double and you have a 35/1 whopper.