Fighting fit
Tim Clement picks out the common theme from the pre-Australian Open press conferences.
Last Updated: 15/01/12 1:22pm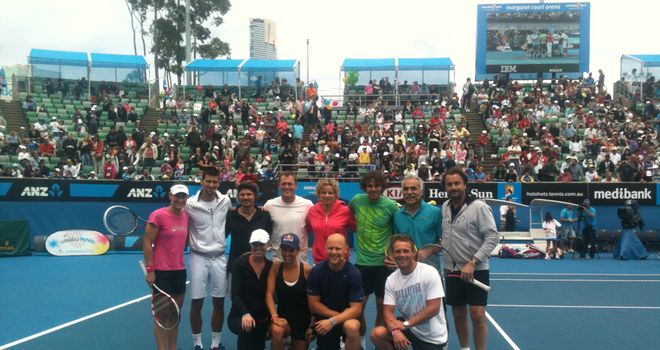 An afternoon in the company of the likes of Serena Williams, Kim Clijsters, Roger Federer, Rafael Nadal and Novak Djokovic can only mean one thing - it's Grand Slam time.
Melbourne Park was already a hotbed of activity on Saturday, two days before the Australian Open begins, as kids and journalists alike were treated to some time with the game's greats.
Kids Day brought in thousands as Clijsters and Djokovic took on Sam Stosur and Nadal, with a few extras involved including a freakishly good seven-year-old girl, in an exhibition match.
There were plenty of other attractions on show from the great entertainer Mansour Bahrami to autograph corner to the standard face painting, but for the grown-ups who were free of child-sitting duties, the fun came in picking the brains of the tennis world's elite in the pre-tournament press conferences.
Not that much was being given away, each player perfectly drilled in delivering the response 'yeah I'm feeling great' and 'sure, I'm confident I've had enough time on court'.
Fitness was, as expected, the common theme following the string of injuries worries leading up to season's first Grand Slam.
Women's world number one Caroline Wozniacki was first up in declaring her fitness following a wrist problem in Sydney a few days prior.
She said: "Well, it's okay. It's getting better. I'll be ready to play on Monday. I'm looking forward to it. It's exciting to start the first Grand Slam of the year."
Well played Wozza.
Weight of expectation
Next up was Stosur, who may not have just jumped off the injury table, but is carrying the heavy burden of Australia's hopes of having a first native winner since the 1970s.
She has done her very best to temper the expectations built up by her US Open triumph, bowing out in the second round in Brisbane and then the first in Sydney.
"That's something to smile about when the nation is willing you on," said Stosur. "There's nothing bad about that."
Well, except for it resulting in the Australian Open being her worst Grand Slam to date, having previously never made it past the fourth round.
Next was the woman who came back from retirement and childbirth to win the 2009 US Open with only a handful of matches under her belt, Kim Clijsters.
Having been forced out of her semi-final in Brisbane with a hip problem, she said: "I'm doing good. I think what happened in Brisbane was something that I knew kind of was something that would only need a few days to get better, and it did."
Mothers always know best, so Kim sounds good to go.
However, Serena worries me somewhat more given she admitted that she only really tested her ankle problem, also sustained in Brisbane, on the Saturday.
She said: "I really tested my moving today for the first time so I feel a lot better with it. I'll kind of know more tonight, you know, 'cause today is the first day I really like really, really, really pushed it. I've been taking it easy for a long time now. But overall I feel really good."
Cue the balloon sized ankle...
Main concern
Then there's the most worrying one of the lot, Maria Sharapova, who comes to Melbourne Park without any competitive matches under her belt, having withdrawn from Brisbane following a strained ankle.
So surely she's not feeling 100 per cent?
"The body feels really good," she declared. "I wasn't really in a hurry to go and play a tournament when I didn't feel like, you know, I had enough practice and all. But, yeah, it's been really good."
Over to the men now where things have hardly been much better.
Roger Federer was forced to withdraw from the ATP Doha just over a week ago due to a back problem, but is raring to go.
"I feel my game is really right where it needs to be, even though now the last few days have been pretty much of a waiting game, seeing how it goes.
"I feel like I'm ready to go. If matches were to start tomorrow, no problem. Even today would have been fine."
He said before being wheeled back out by his coach.
Actually, in all fairness to Federer he spoke very openly about the nature of his back problem, which has caused problems throughout his career, before concluding, like all before him, that he is ready to go.
Finally it was former man of glass, currently number one sportsman on the planet: Novak Djokovic.
The Serb shocked the tennis world by starting 2011 a remarkable 41-match unbeaten run and racking up three Grand Slams and a record five Masters titles.
However, even his campaign was hampered by injuries, struggling after the US Open with both shoulder and back problems.
Wiser for his troubles Djokovic commented: "I need to have just the right thinking towards rest as much as I have towards the work."
Before dropping in: "Right now I don't feel any struggles and any pain."
One man who had a relatively injury free 2011, with a groin problem in the World Tour Finals the exception, was Andy Murray.
The world number four moved through the gears impressively to win the Brisbane International, but dismissed the significance of preparing well as he continues his quest for a first Grand Slam.
He said: "I get asked that before every Slam, perfect condition, perfect preparation, is this the best you've ever been prepared for a Slam. I prepare well for all of them."
Maybe it's time to try one of those injury things?
I think supermum Kim sums it all up with: "I'm not going to sit here and say, look, tennis is a perfectly healthy sport when you do it on a top level, because it's not. The movements are not always that natural."
So in conclusion, it seems a bit negligent inviting all of these kids down to get involved in a sport where success inevitably leads to ill-health.
In all seriousness, here's hoping all of the entrants are fully-fit for what promises to be both intensely competitive and tough to predict in both the men's and women's draws.