Djokovic sets up Murray date
Serb comes from a set down to see off Ferrer in four
Last Updated: 10/09/12 2:00am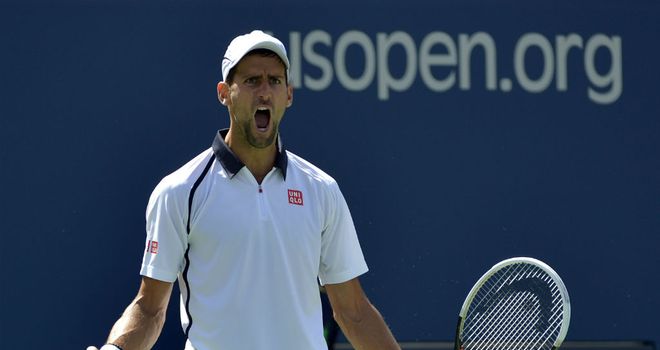 Novak Djokovic: Will meet Andy Murray in the US Open final after beating David Ferrer
Novak Djokovic overcame David Ferrer in four sets to set up a showdown with Andy Murray in the US Open final.
Having seen their semi-final delayed by a tornado warning on Saturday, the duo resumed on Arthur Ashe Court on Sunday in glorious sunny conditions with Ferrer leading 5-2 in the first set.
The Spaniard won the first game of the day to move a set ahead, but that was as good as it got for the fourth seed as Djokovic moved through the gears to ultimately overwhelm his rival.
Having raced through the second set, Djokovic came through a tighter third to break his opponent's spirit and then dominated the fourth to complete a 2-6 6-1 6-4 6-2 victory in two hours and 32 minutes.
It will be the second grand slam final meeting between Murray and Djokovic after the Serb's crushing win at the Australian Open last year at the start of a sensational season that saw him pick up three slam titles.
He successfully defended his title in Melbourne this year, beating Murray and Rafael Nadal back-to-back in brutal five-setters, but Murray got some revenge with victory in the Olympic semi-final before going on to win the gold medal.
Djokovic will play in his third consecutive US Open final and his seventh final out of the last nine grand slams.
He said: "It's a huge relief to get through this match. David's a great competitor, he's one of the fittest guys on tour and he never gives up.
"We were all praying for less wind today. He handled the wind much better than I did but I came in today as a different player and I'm just really happy to get to another grand slam final."
No favourite in final
Sky Bet Odds
Where's your money? We make Andy Murray 2/1 to land his first Grand Slam at Flushing Meadows. Bet here.
On facing Murray, the 25-year-old added: "I don't think there is any clear favourite. He's looking for his first title, I'm sure he's going to be very motivated. I hope we can come up with the best tennis for this crowd."
Djokovic had looked completely out of sorts in the wind yesterday, complaining to umpire Carlos Bernardes that the match should be postponed.
He was lucky to get his wish, with organisers worried about the threat of a tornado that did not materialise, and had they carried on the result may well have been different.
But under blue skies and with only a little breeze, the defending champion was back to the form that has made him unbeaten in grand slams on hard courts for two years.
Ferrer served out the first set, the only set Djokovic has lost at the tournament so far this year, but the Serb promptly reeled off the next five games.
Ferrer finally held to avoid a love set but, although he was trading well with Djokovic in long rallies, the second seed always seemed to have one more shot.
Djokovic broke early in the third set as well but Ferrer showed his tenacity to hit back. The Spaniard was broken again in the seventh game, though, and that proved to be the crucial moment.
Djokovic wrapped up the set and then all but sealed victory by winning the first four games of the fourth. Ferrer dug in to ensure at least the scoreline would be respectable but he was well beaten.