Wimbledon 2014: Andy Murray impressed as he blew away Roberto Bautista Agut
By Barry Cowan
Last Updated: 02/07/14 11:53pm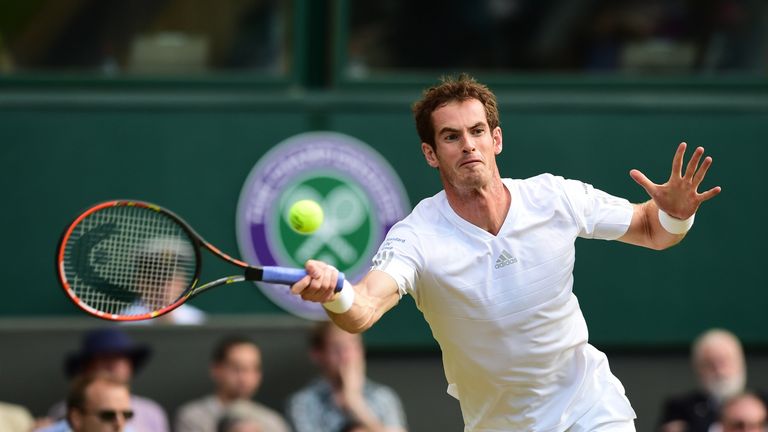 Andy Murray faced what could have been his first real test of this year's Wimbledon on Friday night – and he came through with flying colours.
The first two matches he played were very good draws and never going to cause him any problems, and I was impressed with the way he focused and put those opponents away.
But against Roberto Bautista Agut, he was excellent; really, really good. It is everything that you would want from your defending champion. He looked composed and he looked at ease. He is playing well and moving well. It has been a near-perfect opening week for Andy.
I think the tour as a whole has a duty to, not only put the big guys on the show courts, but also to showcase the future stars.
Barry Cowan
That said, you don't necessarily learn that much in the first week. It is more towards the end of the second week, obviously, when you need to play well to beat the big players. I still feel Andy's first big challenge will be in the quarters.
He will play Kevin Anderson in the next round and Kevin has had a really good year, and has a big serve. But I like the match-up for Andy and I think he will cause Anderson problems.
In terms of which of the top four will win, I have always thought this was the hardest one to call for a long time. You can make arguments for any of the four to win; you can make arguments for any of the four not to win.
So it is not until Andy gets to those big matches next week that we will really know just how well he is playing. I think he is ready.
I have yet to notice any changes Amelie Mauresmo has encouraged in his game. If Andy had lost in the first round it would not have meant Mauresmo had done a bad job and if he wins it will not mean she is the greatest coach in the world.
If Andy feels good on and off the court then it is not just Mauresmo who is responsible, it is the rest of the team as well. When you are that good - same with Novak Djokovic, Rafael Nadal and Roger Federer - the coach plays a part but a small part. It is the player who the ultimate deciding factor on how far they go.
Aggression
Roger Federer like, Andy, has had a great draw. And he has got another great draw on Saturday against Santiago Giraldo, who is streaky. Giraldo has played some good tennis this year but playing on grass against Federer – I don't see any difficulties for Roger.
Roger was under the spotlight this year due to his early exit from Wimbledon last year but that was never going to happen again because he was too confident and too fit this time. Again we won't know exactly how well he is playing until the quarter-finals. That is when the pressure is on and can they come up with the goods then? So far I have been really encouraged with the way Roger is playing.
The question is whether, when the pressure is on, he will continue being aggressive and coming forward or will he revert to type. Roger will not win Wimbledon playing from the back. If he still comes forward under pressure then he has a shot.
Order, Order
I think the tour as a whole has a duty to, not only put the big guys on the show courts, but also to showcase the future stars. We need to be very careful that it is not just a given that every round Nadal and Federer on centre court.
What they have done with Grigor Dimitrov this week has been great but there are a lot of other players that warrant showcasing. Milos Raonic as far as I am aware has not been near a big court and Kei Nishikori has not been near a big court. These guys are not only great players but they are also characters.
For example I thought that Jerzy Janowicz and Lleyton Hewitt should have been centre or one. For me it was likely to be an epic, a five-set match, and it was out on court two.