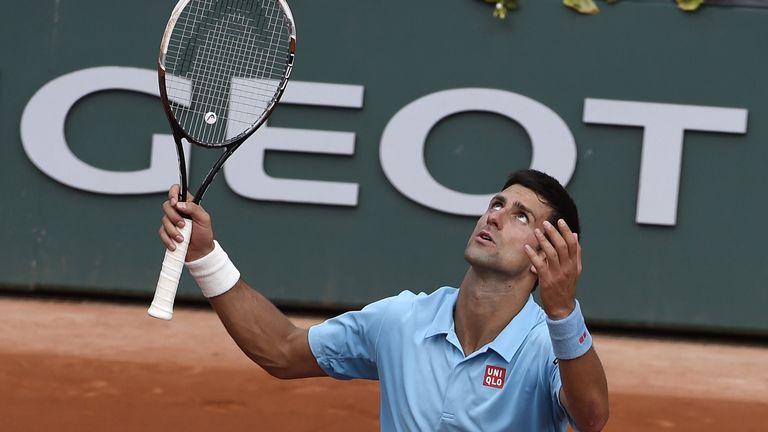 A ninth French Open is an astonishing achievement by Rafa Nadal.
It's more astonishing when you consider this year was unprecedented for him in the fact he hadn't lost more than two matches in a clay court season since 2005.
The pressure was on. If you look at the way he played in Monte Carlo, Barcelona and Madrid – even though he won in Madrid he looked a bag of nerves in the final against Kei Nishikori.
Then there was what happened in Rome in the final against Djokovic, which is what happened in the previous three meetings between the two. To turn the tables on Sunday in the final was massive.
We didn't know whether Novak would be able to handle the pressure that was undoubtedly on him, given that he was trying to become only the eighth man to win all four Grand Slams. I was surprised how he just seemed to hit the wall.
But he's a champion, and when their backs are against the wall great champions are able to find something. Nadal was able to do it after losing to Stanislas Wawrinka in the final of the Australian Open – that hit him hard because of the injury and also the fact he's getting closer and closer to Federer's 17 Slams.
Novak's level has been astonishing but he's only won one major out of the last nine and he's lost some big matches in the finals. So I think for him the longer it goes on, the harder it's going to get. Obviously the ultimate test is beating Rafa in the final at Roland Garros, but it's even more of a test when you've never won it as well.
Unfortunately for him, who's to say that obstacle won't be there next year, or the year after? Rafa's now on nine, but if he's playing for another three years or so he could win 10, 11, or 12.
Impossible
The conditions suit Nadal there – it's quicker at Roland Garros. He definitely had the advantage with the weather as we saw against Andy Murray in the semi-final. When it's hot it plays quicker and gives him a little more off his ground strokes.
What's incredibly hard, almost impossible – because he's won nine French Opens out of 10 – is to be able to play at a very high level over long periods. You might be able to do it for an hour, but over five sets when it gets physical and the pressure is on, it becomes that much harder.
Novak's played matches on clay with Rafa for four hours in Madrid, and he hit the wall a lot earlier than I thought he would – that's clearly because of the extra stresses added before even coming on to court.
Djokovic, rightly so, wants to be a part of history. He wants people to talk about Novak Djokovic in 20, 30 years' time, and the way you do that is to win all four Grand Slams. But it gets harder the older you get – he's 28 next year, and naturally in any sport you start to think 'how many more chances have I got' so that brings extra pressure.
If Novak had won the French Open before, he would have won that match.
Positives
We've got a really interesting week ahead. We've got a grass court period where, of course, there's the top four but there are also some other guys who are ready to step up.
Any time a player goes deep into the French Open they're always vulnerable early on in those first couple of matches. Andy will know what he's got to expect at Queen's this week, and he will feel he's got a pretty good draw.
What we don't know is whether Andy will have been hit hard by what happened on Friday – the fact he got a pretty bad beating – or whether he will take the positives that he should, considering he's played very well in the last couple of events in Rome and at the French Open. I would hope it's the latter.
If you'd said beforehand that Andy would reach the semi-finals and lose to Nadal, you'd sign for that and move on to the grass court season, because ultimately that's his best chance for success.
Even if he plays his best tennis against Djokovic and Nadal on clay he will lose if they play at their best – he needs things to go his way. On grass, though, if Andy plays his very best tennis he wins Queen's and Wimbledon, which is what he should be focusing on.
I don't think this week has any negatives for Murray – if he loses in the first round it doesn't mean his Wimbledon chances are shot, and if he wins the tournament it doesn't mean he suddenly becomes the favourite.
Consistency
It's very difficult to make a call on who will win at Queen's – it's the first week on grass. It also depends on how far the players are going to push themselves, especially if the conditions are bad. If you do get a greasy grass court they're certainly not going to want to go 100 per cent with the risk of injuring themselves.
Wawrinka is someone who interests me because he's had an amazing year, but also an incredibly inconsistent year. After he won the Australian Open it's been either champagne tennis or not-so-great tennis.
Here's a guy who's three in the world – he hasn't had the consistency of someone in his ranking, but he's still dangerous. When things are going for him he can take the racket out of anyone's hand.
I'm still not convinced by Stan as a grass court player, though. I still feel he needs favourable conditions – if the courts are quick then, with the swing he has, is he going to be able to beat the best? After his poor showing at Roland Garros Wawrinka needs a good week, he's also the number one seed, so there's that added expectation.
Grigor Dimitrov had a poor French Open, and I think he needs a good grass season – I expect him to as well. He's one of those players who is the wildcard and could come out of nowhere. I've always felt with Grigor that he will get a big win in a big event and then build on that.
There's also Ernests Gulbis. He's going to be very dangerous on the grass because of his game – he hits the ball early, he's got a big serve. However, he's just reached his first Grand Slam semi-final, so will he suffer a dip after that?
He's just broken into the top 10 – he's under the spotlight more and hasn't necessarily been comfortable with that tack in the past. He said at the French 'I'm on the last train now', so he doesn't want to waste this opportunity to go for bigger and better things.