'Timing of Mauresmo appointment by Murray is surprising'
By Barry Cowan
Last Updated: 08/06/14 2:06pm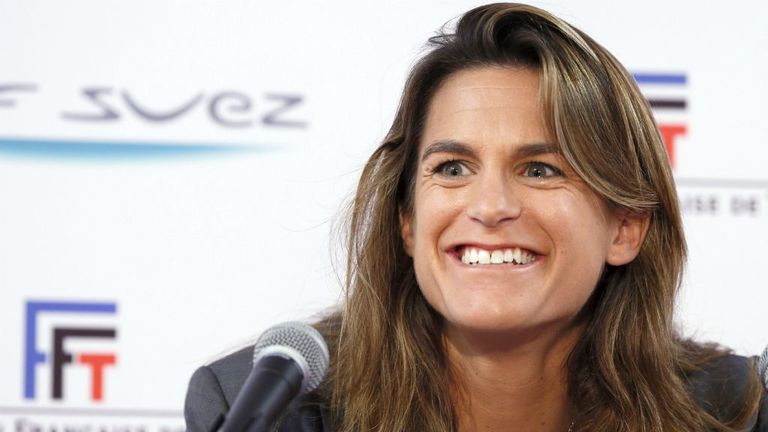 I was thinking when I heard the news Andy Murray had appointed Amelie Mauresmo: when has it ever happened that a male player has appointed a female coach?
Male players have worked with their mother – Jimmy Connors did, and Judy Murray was a massive part of Andy's development when he was younger.
What's more surprising, though, is the timing. I didn't think Andy would delve into a new coach until after Wimbledon – when he split with Lendl, I thought if anything was going to be done it would be done before the clay court season.
Once the clay court season gets up and running the tournaments come thick and fast. He lost in the French on Friday, and Queen's starts for Andy either on Tuesday or Wednesday.
It was unlikely he was going to go with another high-profile player who's won multiple Grand Slams, because that list was very small
Barry Cowan
So in that way I think it's a huge gamble because you never know how it's going to work, whether it be Mauresmo or when it was with Lendl – you don't know if it's going to kick off, or click straight away, so there will be a period of time where they'll both try to find each other out and work out what makes each other tick.
Andy's an incredibly intelligent person, and he's incredibly intelligent on the court. He probably knows more than anyone what he needs. When he split with Lendl – which direction was he going to go next? It was unlikely he was going to go with another high-profile player who's won multiple Grand Slams, because that list was very small.
I never felt it was a possibility he would appoint a coach who's been on the tour for the last five, ten years, such as a Bob Brett, or a Paul Annacone. I always felt it would be a left-field appointment. Someone like Andy, he likes to be the one who calls the first shot.
When he appointed Lendl – and you look at what happened after that – loads of the top players appointed what we call the 'super coach'. Djokovic appointed Boris Becker, Roger Federer appointed Stefan Edberg and Cilic has appointed Goran Ivanisevic.
If in five or ten years' time other male players have appointed female coaches, Andy would like to say 'I was the first one to break that mould'.
Andy has Dani Vallverdu in his corner, who he knew for a time when he trained in Spain as a junior, and he's been in Andy's corner throughout the last four, five years. He was there with Lendl and since the split Dani is still there.
Happier
Amelie Mauresmo's Grand Slam Career
Australian Open: W (2006)
French Open: QF (2003, 2004)
Wimbledon: W (2006)
US Open: SF (2002, 2006)
I've said consistently on our coverage on Sky Sports that Andy's best coach would be Andy himself. He needs to get himself onside, which I think he's done in the last two events.
The way he played in Rome, the way he played at the French Open – I think he's a lot happier, and if he feels Mauresmo can help him be more relaxed, then so be it and it's a good appointment.
With Andy, one of the most important things is not to try and go too fast. Murray is the type of player and the type of personality who doesn't want loads of information.  I think that's the secret for Mauresmo – to get in, and get out; make your point very quickly. She's not going to go on the practice court at Queen's tomorrow and start changing his forehand or his backhand.
For Andy, he's pretty close to where he needs to be after his back surgery, but what he needs to try and do know and rebound after that disappointment on Friday, where he was below his best and Nadal was exceptional.
I think the list of potential Wimbledon champions is quite small, and by being defending champion Andy is high up on that list, but the stats don't lie. Murray has not beaten a top-10 player since Wimbledon last year when he beat Djokovic in the final. If you look at the form over the first five, six months, Djokovic and Nadal are one or two levels ahead of Andy.
Federer has played better than Andy that year, so I would put Murray in fourth, but you never know what can happen. He showed, in glimpses, in that match with Nadal in Rome, that he can rise to the challenge and play his best tennis. But I think probably at the moment – given the fact he hasn't defended the title so he's never experienced that before – I would put him as fourth favourite.