Barry Cowan: Simona Halep can beat Maria Sharapova in the French Open final
Sky Sports expert previews the women's French Open final
By Barry Cowan
Last Updated: 06/06/14 3:31pm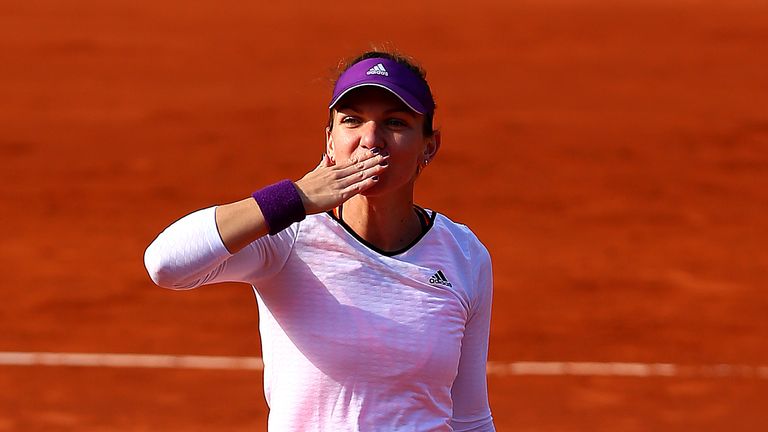 Maria Sharapova is the ultimate competitor, tennis' ultimate street-fighter, and if the French Open final goes to three sets she will be crowned champion.
But I don't think it will. I think Simona Halep will become a Grand Slam champion on Saturday by winning it in two.
With all the carnage that has happened in the women's side, with all the top seeds losing early on, Halep is actually the higher ranked player and I have been so impressed with the way she has handled it.
When all the top players lose it brings different pressures and you feel that this is your chance. The way she has handled everything, though, convinces me that she will rise to the occasion in the final.
Of course being so close to winning a first Grand Slam, can be a nerve-racking situation – as Sabine Lisicki would testify. The occasion at last year's Wimbledon final was too much for her and she only started to relax towards the end of her defeat by Marion Bartoli.
So that has to be a doubt for me but Halep is at an age where she can handle it. And it is not as if she has not been in form going into the French Open; she has been playing terrific tennis for long periods so that is why I feel in terms of the pressure she can handle it.
Halep has played better tennis than Sharapova; she has looked in better form; she has looked more confident and I think it is her turn.
I think she will be able to match Sharapova from the back of the court and if she can do that and neutralise the power of her opponent, then Halep is a better mover and that will come into play.
Halep has to play her game. She is in a position where she has got to the final by playing great tennis. She simply has to play her game, especially with it being her first final. She can't worry too much about her opponent.
Presence
Sharapova makes her opponents think about her. She has that presence, like all great champions have, and her opponents know about her terrific three-set record. She wants to make it a street-fight and there are not too many women who would expect to beat her in those circumstances.
Someone like Serena Williams doesn't make it a street-fight, she tears into Sharapova early on and Sharapova is not really able to match that. Obviously Halep is a totally different tennis player to Serena but I think the start will be important.
One thing that has surprised me over the last few years is how great Sharapova is now playing on the clay. She used to struggle with her movement but she has adjusted well now.
Faults
The big question mark with Sharapova, and I have felt this for a while, is can the serve hold up under real pressure? Obviously she has had some tough moments in the tournament so far but it is a step up in a Grand Slam final and she can't afford too many double faults.
I don't think Sharapova has played her best tennis but she is just such an incredible competitor and any time it goes to three sets the odds are heavily in her favour. And on Grand Slams won Sharapova would be the favourite again.
If it goes to three sets then Sharapova, for me, will win because of the competitor she is, the experience she has and the amount of three-set matches she has won. But I am going for Halep in two.