'Kei Nishikori has improved defensively, but Rafa Nadal's form is a concern'
Barry Cowan remarks on the Kei Nishikori-Michael Chang partnership and Rafa Nadal's fallow period.
By Barry Cowan
Last Updated: 30/04/14 1:44pm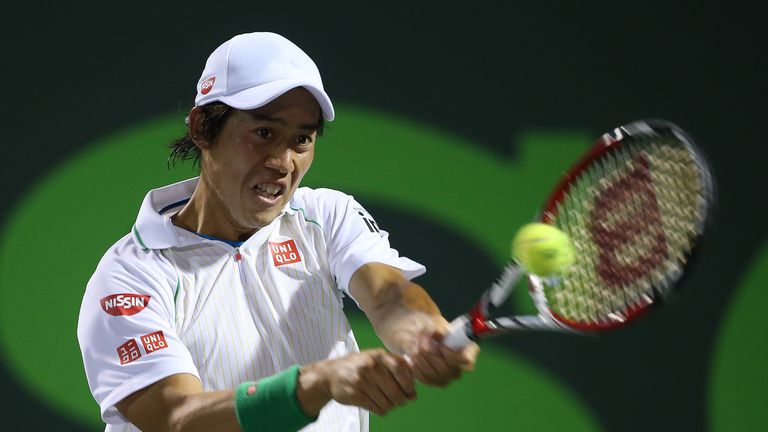 I wasn't sure that the Japanese had what it takes to be a top-10 player and thought that the 11th spot in the rankings he reached last June would be his pinnacle.
But now I expect him to possibly be top eight, as not only is he playing well enough but guys around him are struggling, with Juan Martin Del Potro out injured and Richard Gasquet not playing top-10 tennis.
Nishikori's performances in Spain were excellent and as well as making shock finalist Santiago Giraldo look very average, he beat two very good players in the quarters and semis, in Marian Cilic and Ernests Gulbis respectively.
He was clinical, proving that he doesn't have be 10 out of 10 and red line it to trouble the top players and that he can get the job done if he is seven out of 10 for most of the year.
I was extra impressed with Nishikori's victories as he hadn't played since Miami, when he pulled out of his semi-final with Novak Djokovic due to a groin injury after earning a massive win over Roger Federer in the quarters.
It is always a huge for self-belief if you can pick up where you left off and his displays in Barcelona are bound to give Nishikori more confidence going forward.
Facets
Nishikori reminds me so much of Nikolay Davydenko, who reached number three in the world in the mid-2000s, so it will be interesting to see if he can maintain that level over a period of years, as the Russian did.
If he can steer clear of injury and bolster his netplay and serve, although the latter is already coming on, he just might, because the other facets of his game are strong.
Nishikori has always relied on his excellent attacking tennis - he hits the ball hard and early - but he is now a better defender and able to use his speed to defend with intelligence, and I think Michael Chang has played a big part in that.
Chang, who began coaching Nishikori in January, was always a brilliant defender, as not only did he have the speed but knew exactly where to put the ball on the court and that at times you have to hold in a rally and win it in 15-20 shots, not two or three.
That has rubbed off onto Nishikori and he is helping his player make the next step, but whether the partnership can lead to Kei winning the French Open, as Chang did in 1989, is another matter entirely.
Nishikori is still way off the top guys on the clay and, in my opinion, is not going to beat Rafa Nadal, Djokovic or Federer in the semi-finals at Roland Garros, but if someone big loses early and the draw opens up, you just never know.
Questionable
As for Nadal, I was worried after he lost to David Ferrer in Monte Carlo and I am now very concerned following his defeat to Nicolas Almagro in Barcelona, his first loss at that venue in 11 years.
I don't think he was too far off playing his best tennis in the second set against Almagro but his confidence is low and his self-belief is questionable in the big moments, as proved by the fact he lost that match after winning the first set and being 3-1 up in the decider.
Nadal doesn't lose like that on clay, certainly when he's up against a man he has beaten in each of their previous 10 matches, so for some reason or another he can't convince himself to play aggressive tennis when the pressure is on, something he used to be unbelievable at.
We have to be careful not to be too radical in our assessment, but he is arguably going through his toughest moments ever, certainly on clay, and if he can't conquer lesser players on the red stuff, I don't see him getting back to his best on other surfaces in the short term.
Rafa has clearly been rattled by losing the Australian Open final to Stanislas Wawrinka, while I think he is also feeling the effects from his quite sensational 2013, so he is in a period of readjustment and needs to go again.
The next two weeks, in Madrid and Italy, are vital for Rafa, though the Spanish event will be difficult because it is played at altitude and that is not something he prefers - but if he can get his confidence back and play aggressively, the tide can turn.
I hope it does, too, because while I love seeing new players breaking through, I want to see the greats in the latter stages of tournaments.