Barry Cowan looks ahead to the Barcelona Open and reflects on injuries to Laura Robson and Novak Djokovic
Barry Cowan says Rafa Nadal must bounce back in Barcelona and hails the form of Stan Wawrinka.
Last Updated: 22/04/14 5:15pm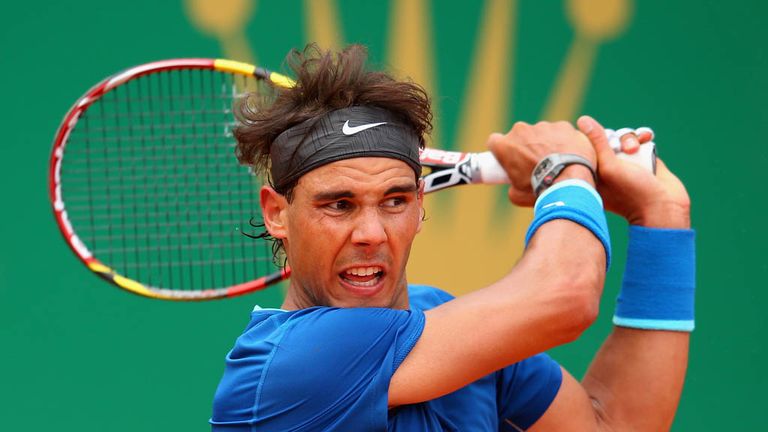 We have to be very careful with just one result, but I was surprised how nervous he looked, and how nervously he played, in his defeat by David Ferrer at the Monte Carlo Masters last week.
The tell-tale sign with Rafa is his length. When he is not feeling good, the length of his ground stroke is short. And from there Ferrer was able to dictate to him.
If you look at Nadal's history, when he has had off days on other surfaces - he's only lost 22 on clay - he has always bounced back. That is why I think that this week is massive for him. I really feel this week is huge and he needs to win the title in Barcelona.
Anything but that this week for Rafa and it will put more doubt in his mind. That will bring a little bit of anxiety so he will feel that he is under the big spotlight this week.
I was surprised at how openly he talked about his injury worries, and how they have affected him mentally after in the Australian Open. You have to remember that he lost to Stanislas Wawrinka in the final, it was not Roger Federer, Andy Murray or Novak Djokovic - this was a guy who had not won a major before. May be getting in sight of Federer's record of 17 grand slam titles is making him slightly anxious.
He had a career threatening injury before that - although it was a totally different injury to his recent back troubles - and maybe what he had to go through to get himself back and playing great, has been a bit much. So mentally there have been tough moments.
What he needs to do - and he has great support around him - is to remember that he won in Rio by beating Alexandr Dolgopolov in the final and he made the final in Miami only losing to an inspired Djokovic. It is not all bad. He is not playing as well as he did 12 months ago, but one match can turn it around. That is why this week is huge for Rafa.
If you put me on the spot I think he will be back with a bang, win the event this week and he will be looking forward to Madrid, Rome and the French Open. You have to go on history.
People were questioning Nadal after Wimbledon last year and I thought that was just a blip; the French Open and the clay court season had taken so much out of him that he was mentally shot. And he came back to play unbelievable tennis in America. But now he does need to correct what went wrong last week and play better.
Stunning Stan
The performance of last week was undoubtedly Wawrinka, who beat Federer in the Monte Carlo final. It was a stunning effort and he played unbelievable tennis all week. To come through and win the title the way that he did, having looked a little out of sorts mentally at Indian Wells and Miami, and to battle through some difficult moments in the final was terrific.
Towards the end of the second set and the third set he was unstoppable. He is now showing on all surfaces that when he plays his best tennis, he is arguably one of the best players in the world.
That is not a sweeping statement - just look at the last few months. He beat Djokovic and Nadal in Australia, he beat Murray at the US Open and Roger really could not live with him in that third set in Monte Carlo (although it was not Roger's best surface).
If Rafa is fit and playing well and Djokovic is fit and playing well, then there will be three players who can win the French Open. Wawrinka is that third player.
Careful
Djokovic injured his wrist before the tournament but was able to continue to the semi-finals. So you have to feel that he had the right advice and treatment, and they felt it would not be a long-term issue. But you have to be careful with the wrist.
Sometimes those injuries take a while and you can make it worse. For me Djokovic needs to make sure he is absolutely right for Paris. If it means taking a month away and being under prepared in terms of matches for the French Open, but being 100 per cent fit, that is far better.
Hungrier
Laura Robson has been chasing it for the last few months with her wrist injury so hopefully now she will focus on just getting fit after surgery. The rankings are irrelevant because she has shown she is good enough to get back. In some ways it might help her to have time away to reflect on what she is missing.
It might make her hungrier. I don't think she has always given the impression that she loves the sport when she has been on court. It should be about enjoying her tennis and trying to be the best player she can be.
It is obviously hugely disappointing for British fans that she will not be at the French Open or Wimbledon. Last year she showed that she can, not just do well at Wimbledon but, win it. I felt she was that close last year.
Before the event I would have said Laura would have had as much chance of beating Marion Bartoli, as Bartoli would of beating Laura. Hopefully next year she'll be fighting fit and ready for another good showing.