Davis Cup 2014: Britain will beat Italy if Fabio Fognini is ruled out
Last Updated: 03/04/14 10:17pm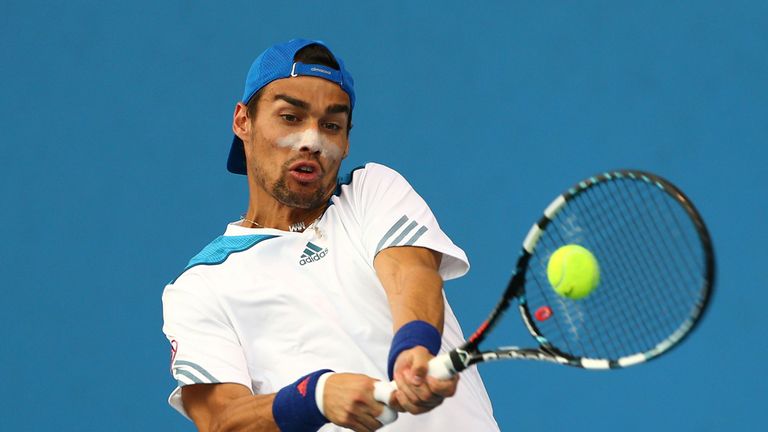 Defeating America in the Davis Cup was a real achievement – but overcoming Italy would top it.
I thought Britain were marginal favourites to beat the States on clay in the last-16, but when John Isner pulled out with an ankle injury and was replaced by Donald Young, they became overwhelming favourites.
That showed in the tie as Britain emerged 3-1 winners, with James Ward playing fantastically well to topple Sam Querrey, but against Italy the odds are stacked against Leon Smith and his team.
I think Fabio Fognini, even though he is a doubt for the clash in Naples with a leg-muscle strain, is the favourite to beat Andy Murray, as he is an excellent clay couter and will adapt to the surface a lot quicker than the Brit.
Andy is getting stronger all the time and I think his April Fools' Day joke shows he is in good spirits.
Barry Cowan
I put the tie 55-45 in favour of the home team but if Fognini is forced to pull out, I would make that 80-20 to Britain, such is the talent of the Italian No. 1 and the fact a replacement would not be at his level.
However, with it being such a long time since Italy were successful in the Davis Cup – their last final appearance was in 1998 and their only tournament win was in 1976 – if Fognini is touch and go I think he will play.
Fognini has a short fuse and can get rattled but I have no doubt that he will be inspired by this competition and his importance has increased with team-mate Andreas Seppi not currently playing his best tennis.
Seppi reached the fourth round of the Australian Open and Wimbledon last year but he can get a bit tight so if the tie is nicely poised at 2-2 on the Sunday and he is in the final singles rubber, he may not be at his most comfortable.
Option
Ward should get the nod as Britain's second singles player, mainly because he deserves to after his heroics in America but also because I don't really think Dan Evans comes into consideration on clay, with it being by far and away his worst surface.
It would be great, though, if we could go 2-0 up on the first day, put Ross Hutchins into the doubles rubber and spare Andy for Sunday, rather than picking him, having the match go to five sets, losing narrowly and then seeing our best player feeling mentally jaded. 
So it will be interesting to see whether Ross makes it into the final four or if Leon opts for a back-up singles players instead, because while having a doubles option is nice, it does restrict you should one of your singles players go down.
Andy, though, is getting fitter and stronger all the time and must be really looking forward to the Davis Cup challenge.
He will head into the tie in good shape tennis-wise because I think his quarter-final clash in Miami with Novak Djokovic was the best he has hit the ball and moved in a long time, probably since his win over the Serb in the Wimbledon final.
Murray lost that match 7-5 6-3 but he must be encouraged by his display and ignore his ranking, as even though he has slipped to eighth, the top four – Djokovic, Rafa Nadal, Roger Federer and Murray - will be the top four at the end of the year.
It would be great to see Murray battling with Federer and Stanislas Wawrinka in a home Davis Cup semi-final – which will happen if Britain beat Italy and Switzerland overcome Kazakhstan – but thoughts of that must be put on the backburner until this week's match is done and dusted.
I just want Andy and the team to give it a real go in Italy, as all the pressure is on the home side and we have a world-class player who can rise to the occasion and possibly send us into the last four - probably alongside Czech Republic, France and Switzerland.
And finally…
It was an incredible effort from Djokovic to back up his win in Indian Wells with another one in Miami after a near-perfect performance against Nadal in the final. I said earlier in the year that Novak could win three Grand Slams in 2013 and I stand by that because he is the only man I think can beat Rafa on clay when the Spaniard is 100 per cent fit. Rafa is the French Open favourite and will recover from Sunday's defeat, in which he seemed to struggle to change gear, but don't discount Novak by any means.