Barry Cowan looks ahead to the ATP 500 tournaments in Dubai and Acapulco
Barry Cowan is hoping to see an improved display from Andy Murray in Acapulco this week.
By Barry Cowan
Last Updated: 01/03/14 11:20am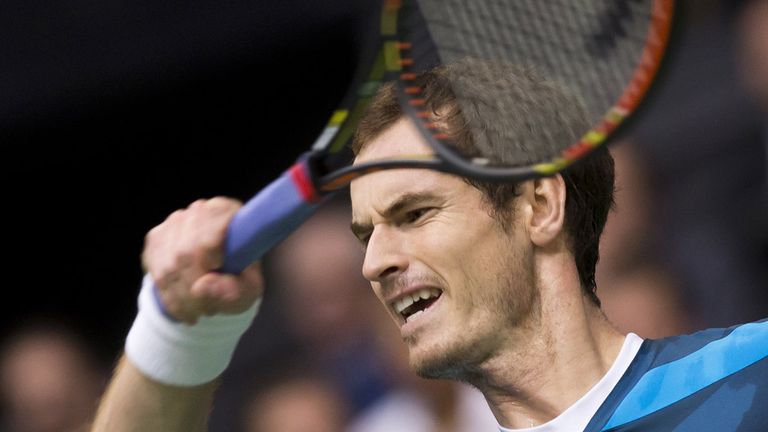 With the event switching from clay to hard courts the Spaniard has unfortunately decided to decline the chance to defend his title, though.
That's disappointing because in the last 12 months his form has been sensational and he played so well at the Australian Open before he got injured in the final.
He made his comeback in Rio on clay, which bar a miracle he will win, and is looking in good shape now.
He got a different injury to his previous troubles in Australia, with that back spasm. But he came back in Rio and he would not have done that unless he were fit, because Rio is a big tournament but not the most important one he will play this year.
I have got to feel that he is close to 100 per cent fit because of that decision. He has not played any matches since Australia but when you have won as many matches as he has over his career, it does not take you that long to get back into gear.
He continues to try to evolve his game and he needs to because there are guys behind him who are looking to knock him off the top spot. With Stanislas Wawrinka winning in Australia there is now another guy who you can add into the mix of players who can potentially beat Nadal.
Test
Fans in Acapulco, however, will get to see Andy Murray in action.
I said on air last week that I felt after Australia he was ahead of schedule - but after what happened in Rotterdam he is slightly behind schedule.
I don't think there is anything to unduly worry about for Murray but I think he would have expected to play better than he did against Marin Cilic. I thought Murray would really put down a marker there but it was not to be.
I don't see any reason as to why he should not play great over the next month or so, though.
Where he is different to Nadal is that he needs points. He needs to get his ranking up because it slipped after winning Wimbledon last year. It took him some time to get over that victory during the American hard court season and then the back operation set him back further. But he only needs a good run in terms of playing tournaments and then he will pick up wins.
His fitness looks fine at the moment, although it is difficult to be definitive on that. He played three matches in a row last week and looked pretty good until his defeat. He is going to have to play a lot of tennis over the next month with Indian Wells, Miami and you would expect him to go deep into the Acapulco tournament.
It will be a real test of his stamina and that is where the sport is so brutal. It is not just playing well once or twice, you have to play well and then back it up again and again. Nadal, Novak Djokovic and Roger Federer have been the past masters of that.
In this next stretch it is not about trying to peak for a Grand Slam, he is trying to get his ranking back up so at some stage he can have an assault at world number one. Obviously at the moment he is a way off reaching the top of the rankings but if he has a good run and gets some miles in his legs that will help him out later in the year.
Dubai stars
Meanwhile there is also a great line-up in Dubai, with Djokovic, Federer, Juan Del Potro and Tomas Berdych in action.
Berdych's win in Rotterdam last week was big for him. He had only won eight titles before last week and to beat three guys who hit big in consecutive rounds, in Jerzy Janowicz, Ernests Gulbis and Cilic he showed great composure and great quality.
He will be very tough to beat in Dubai if the conditions are like they have been in the last few years and the court is playing quick.
This time last year Federer was just not the Federer we have come to expect. I thought he was poor. He never halted that slide until after the US Open.
Since then though he has played some really good tennis and that continued in Australia, where I thought played excellently, only to come up short against Nadal. He loses to Nadal every time now and that is obviously a huge issue for him. But he will be right there in the mix next week though.
It is hard to pick a winner in Dubai. Djokovic has not played since the Australian Open, when he lost to Wawrinka in that close game.
But before that he had gone on a tear - he had not lost since the US Open, so if you look at form over the last six months, you would have to say Djokovic is the man to beat. But if you look at form over the last couple of weeks then Berdych comes into the picture.
On the flip side, the longer Djokoivc is in the tournament the better he will get. So he may be vulnerable early on but if he gets to the last four then I would definitely be confident that Djokovic would be the champion.
ATP 500 Acapulco from midnight, Sunday, Sky Sports 3 HD
ATP 500 Dubai from 10am, Monday, SKy Sports 3 HD