Australian Open champion Stanislas Wawrinka 'will not be a one-hit wonder'
Barry Cowan says Stanislas Wawrinka isn't a one-hit wonder but will be a threat in each Slam.
By Barry Cowan
Last Updated: 27/01/14 2:24pm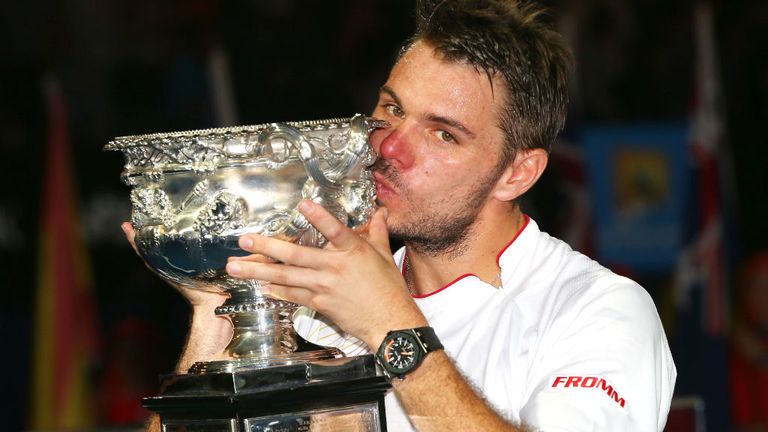 I remember thinking when our new Australian Open champion first broke into the top 10 around 2008 that he undoubtedly has talent but I wasn't sure if he believed that he belonged there; clearly he didn't because he wasn't in the top 10 very long, so it has been a remarkable turnaround to get to this point.
Now he realises just how good a player he is and he has a major to prove it.
Wawrinka's self-belief has been on the rise ever since he nearly beat Novak Djokovic in a five-set epic this time last year, which showed that you can take positives from defeat.
That day he proved to himself that he has the mental strength and the physical powers - as well as the tennis - to stay with those great players. He hasn't looked back from that point and the defining moment was beating Djokovic in this year's quarter-finals.
Difference
I know people will say Wawrinka only won on Sunday because Rafael Nadal was injured but I don't see it that way because the Swiss was already a set and a break up at that point.
However, I'm not sure that 12 months ago he would have gone on and won the match after losing the third set. That's the difference.
Wawrinka did wobble in the third set but that's perfectly understandable because it is horrendous playing someone who is injured - particularly when you are trying to win your first Grand Slam title.
Naturally, in the back of your mind you are thinking 'this could be my time - when is he going to retire?' Anyone who was watching must have been wondering the same. So I thought Wawrinka showed great composure to strike back in the fourth set.
Nadal did exactly the right thing by playing on. I don't think a player should ever pull out unless they've got a career-threatening injury because you never know what might happen in a match.
I'm sure that was going through Nadal's mind; he hung in there and made Wawrinka earn his victory. That's why Nadal is a great champion: he's very humble and does all of the right things. He was just over-hit in the first set and a bit by some stunning tennis from Wawrinka.
Phenomenal
There is a history of players winning one Grand Slam and disappearing - Gaston Gaudio being the most recent one following his victory in the 2004 French Open.
I don't believe Wawrinka is a one-hit wonder because at 28 he's still at the right age to go on and, although he hit some incredible shots in the final, he felt that he played within himself. He played aggressive tennis, yes, but it was percentage tennis.
I've always felt that whoever is going to beat the likes of Djokovic, Nadal or Andy Murray has to serve big, hit big from the back of the court and be good coming forward - and Wawrinka has shown that he is more than competent in all three areas.
At crucial times in big points he was very good at the net against Djokovic and again against Nadal; he also played a phenomenal match against Murray last year in New York, beating him in straight sets.
I honestly don't know if he will win another Grand Slam but I've no doubt he's in for a great year and that he will be competitive in the next three Slams because he can play well on all surfaces. We've been waiting for someone to step up and challenge the top four.
Many people felt last year, and rightly so, that it would be Juan Martin del Potro but I still have some doubts about him because of his reluctance to come to the net. Wawrinka has shown that he's the one who has the class to make those top-four think.
Encouraged
Murray can also take a lot of positives out of his Australian Open campaign even if he did have a very good draw to get to the quarters.
That said, I thought he showed enough in the two weeks to prove that he's put his operation behind him. He looked short of matches, but that was to be expected, and I think he'll be knocking on the door very soon.
Going into the fourth set against Roger Federer 2-1 down, he didn't know how he was physically - how much he had in reserve. You can do all of the training in the world but if you don't have the matches under your belt your reservoir of confidence won't be deep.
Six months ago I would have made Murray favourite to win the match after he won the third set but he didn't have quite enough in the tank. That will change very soon.
I was also really encouraged by what Federer achieved in Melbourne. We shouldn't forget that his last two Grand Slams have been a disaster - losing to Sergiy Stakhovsky at Wimbledon and Tommy Robredo in the US Open.
In the middle of last year he looked slow and devoid of any confidence, a lot of which was due to injury but he has got better and better in the last four months and I was really impressed with the way that he played against Jo-Wilfried Tsonga and Murray.
It was the best tennis that he's played since Melbourne last year; he looked a lot sharper and was moving much better. His partnership with Stefan Edberg is clearly paying off because he's far more willing to come forward.
Ultimately that's his best strategy to beat the top guys because he's not going to out-hit them from the back. At times he's been a little bit stubborn - understandably so given the titles he's won - to back his volleys and movement at the net but if he can do that more, I believe he's going to have a really good year.
I have no doubt that Federer will finish this year higher in the world rankings than the sixth place he achieved last season.
Pressure
After losing in the final in Melbourne in 2011 and 2013, Li Na made amends by beating Dominika Cibulkova in Saturday's final to claim her second Grand Slam title.
Her talent and ability has never been in question but she has buckled under pressure too many times in her career and the start of the match made slightly uncomfortable viewing as both players struggled to settle.
Once Serena Williams went out of the tournament, the question was 'who can handle the expectation and capitalise?'
I wouldn't say that Li handed that situation better than Cibulkova - it was simply the case that her tennis was better. She had the know-how and the belief to close it out.
Cibulkova had a good run but I'm not sure that she will go on and achieve more great things this year. After reaching the final only to lose, everything tells me that she will suffer a dip in form, especially now that she is a marked woman; she is no longer able to slip under the radar.
It wouldn't surprise me if she does go through a very difficult period and it will be interesting to see how she copes with those disappointing moments because if you can take a Grand Slam final loss on the chin, you can come out the other side as a better player - just look at what Murray has achieved.
The next two or three months will tell us a lot about Cibulkova and whether she really is someone who can knock on the door of the top four or five consistently.
Watch the ATP ABN AMRO World Tennis Tournament on Sky Sports from February 13.