Stanislas Wawrinka must 'swing from the hip' to beat Rafael Nadal
Barry Cowan looks at what Stan Wawrinka must do to conquer Rafa Nadal for the first time in his career.
By Barry Cowan
Last Updated: 25/01/14 10:49am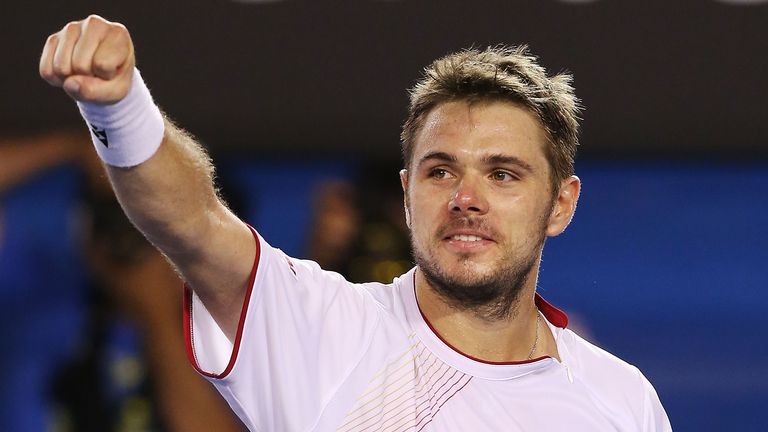 Wawrinka has played great in some of those contests but perhaps just lacked that extra bit of self-belief, while Rafa has been in his element and produced some of his best tennis.
Stan is a different player now, however, and though I think Nadal is going to win Sunday's Australian Open final, I have a feeling that it will be close and that the Swiss can take at least a set on his favourite surface.
Wawrinka has a game that can cause Rafa many problems as he serves well, hits the ball heavy from the back of the court, can rip winners and is also very assured when he comes forward.
The single-handed backhand could be an issue against Nadal - we've seen how Roger Federer has suffered in that respect when Rafa gets the ball up high - but Stan is better than Roger above shoulder height and can flatten his backhand out.
So the big area of concern for Wawrinka could be movement; he is a good mover but not a great mover like Andy Murray or Novak Djokovic and if Nadal forces him back behind the baseline he is not going to be as productive.
Stan needs to be aggressive, come out swinging from the hip and play high-risk tennis, but I suppose that is easier said than done when you are one win away from claiming your first Grand Slam and etching your name into the record books.
Still, he will take huge confidence from beating Djokovic in five sets in the quarter-finals in Melbourne and knowing that he can mix it with - and beat - one of the top players over that length of time.
Moulded
Nadal will know that - and fear it - too, so even though his head-to-head record against Stan is overwhelming, he will not be underestimating his opponent because the form he is in is not a flash in the pan, it's been a long-term thing.
Wawrinka's coach, Magnus Norman has not turned an average player into a great player as Stan was already well on the way to success before they teamed up, but he has given his man greater belief, which in turn has made him more consistent.
Wawrinka was always a fantastic shot-maker and a potential top-10 player but Magnus has moulded him and, as he used to coach Robin Soderling, the only man to beat Rafa at the French Open, Stan must be thinking he can topple the Spaniard on Sunday.
In many ways, playing Rafa is simple as you always know what to expect tactically and can plan how to stop him - but the difficult part is combatting him over and over and over again under extreme pressure.
Take Friday's semi-final for example; Federer actually played quite well but he then lost the first set to Nadal in an hour and that played into Rafa's hands because of his extra physicality on the court.
Roger would probably have been better off shipping the first set in 30 minutes rather than losing it in the tie break to preserve energy and while Wawrinka is more powerful than his countryman, he cannot afford to let Rafa drag the match out as there should be only one winner if that happens.
If Nadal gets nervous and drops the ball short - which he can do - then Wawrinka has a chance, but even if I thought that Stan had the tennis to beat Rafa, it is always hard to tip someone for victory in their first Grand Slam final, especially when they're playing someone they've never beaten.
My guess is Rafa in four.