Murray v Federer: Barry Cowan says Brit will be too strong for Swiss
Andy Murray's physicality and mental strength will defeat Roger Federer, says Barry Cowan.
By Barry Cowan
Last Updated: 22/01/14 9:06am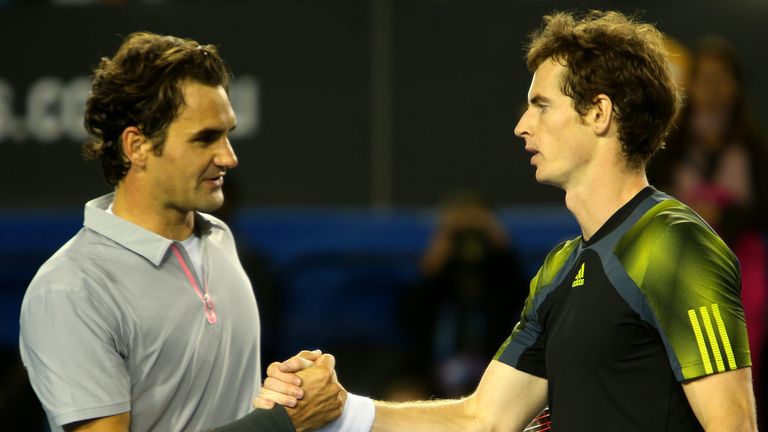 Therefore, I place Andy Murray as the favourite to win his Australian Open quarter-final against the Swiss, not just because of how he has played in Melbourne but how much better he has done at Grand Slams in recent times than Roger.
There are still question marks against Murray, mainly because he has had a great draw and barely been tested, and Federer will be confident as he is playing on quick courts that suit him and beat someone as good as Jo-Wilfried Tsonga in straight sets in the last 16.
However, I am leaning 60-40 towards Murray because I don't think Roger will be able to stick with Andy if the match gets physical, and if we get down to a fifth set I think the Brit will hold his nerve better.
That may sound strange considering Federer has won 17 Grand Slams and Andy only two, but not only does that show that Roger does not have the self-belief he had three or four years ago, it also indicates how far Murray has come both mentally and physically.
Difficult
Roger - who, at one stage, made 36 consecutive Grand Slam quarters - can still play magnificent tennis, though, especially if he serves well and his forehand clicks, but the longer the match goes the more Murray will come into his own, so I feel it is imperative Federer starts quickly.
Murray is a marvellous front runner, not because he plays aggressively when in front but because he is so strong and if his opponent loses the first set they then have to win three in three hours, which is extremely difficult.
I think Murray will edge Federer in four sets, but I would be surprised if Nadal breezed through Grigor Dimitrov, like he did Bernard Tomic, Thanasi Kokkinakis and Gael Monfils in previous rounds.
I think Dimitrov has a great chance of taking at least a set as, in my mind, he is a future top-10 player due to his talent, feel for the game and serve, as well as his improving physicality and mentality.
The Bulgarian has beaten Novak Djokovic before and pushed Murray so now believes he can mix it with the elite - but he is not yet ready to beat Nadal over the course of a three-hour-plus match.
If he is going to win, he is going to have to do it in three sets and I don't see that happening.
Pressure
Serena Williams' exit has really opened up the women's draw, meanwhile, with Eugenie Bouchard and Li Na making the semi-finals on Tuesday, but I am backing Victoria Azarenka (pictured) to win her third straight Australian Open.
Azarenka looked fatigued at the end of 2013 but, after making some amendments to her team, has looked really strong in Australia and is more than capable of handling the pressure of being tournament favourite now Serena has been dismissed.
She is a level above everyone else left standing in Melbourne and will reach new heights if she lifts the trophy again on Saturday following wins over Maria Sharapova in 2012 and Li 12 months ago.
You are a great player if you win one Slam but when you defend it once, let alone twice, then you are talking about a very special player - and, in Azarenka's case, one with plenty more to give in the years ahead.
Saturday should be her day.