Australian Open: Andy Murray braved heat and all set to make second week
It's not just the sun that sizzled at the Australian Open, says Barry Cowan. Andy Murray did, too...
By Barry Cowan
Last Updated: 15/01/14 8:49am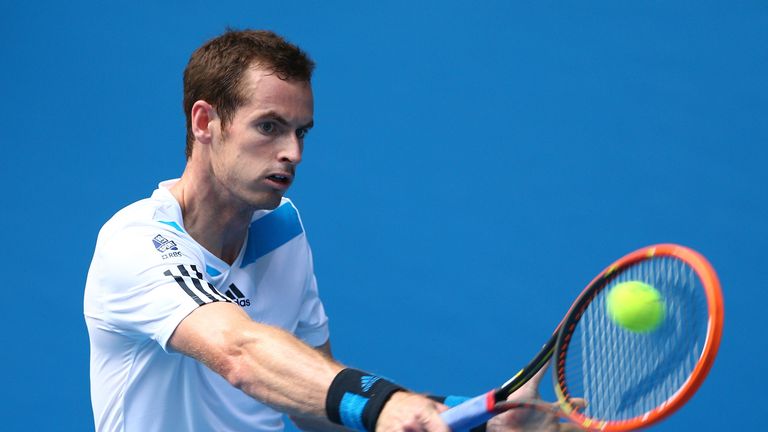 You don't want to get yourself in a hole early on and then have it affect you down the line - but Andy didn't do that and, after winning 6-1, 6-1, 6-3, you have to give him 9.5 out of 10.
Not wasting energy physically and mentally in the opening rounds of Slams - both on the court and off it - is an area where Andy has improved greatly; he used to always have four or five set matches but now he comes through these hurdles more easily.
We still don't know how Murray will fare against a top-10 player as he hasn't been at that level since September, but looking at the draw - he faces French qualifier Vincent Millot in round two and probably Feliciano Lopez after that - I think he will make the second week without dropping a set.
Terrible
Things were pretty routine for the big boys in round one in Melbourne but a few of the guys in the second tier have caught my eye.
Grigor Dimitrov - who came through America's Bradley Klahn in four sets - needs to kick on because he has disappointed since he surrendered pretty meekly to Novak Djokovic in the third round of the French Open.
He was terrible at Wimbledon and the US Open, so has got to earn his corn and get through to the second week of a major, while Milos Raonic should be thinking that way, too.
But one guy I think will do really well in this tournament is Gael Monfils, who beat Ryan Harrison in three sets first up, played well in Doha last week whilst getting to the final, and should be in or around the top 10 at the end of the year.
Monfils will face Jack Sock in round two but Lleyton Hewitt's tournament is over after he lost to Andreas Seppi and although he beat Federer to win a tournament in Brisbane last week, the defeat was not a great surprise.
When you get to your 30s and have endured as many injuries as Lleyton has, you never lose the ability to play great tennis and win big matches, but you do lose the ability to perform consistently week in, week out.
Your body slows down and it becomes tougher to recover, which is something Federer will find out and something Venus Williams, sent packing in the first round by Ekaterina Makarova, has already discovered.
Capable
Venus' time at the top has slipped away but I think she will have decent year.
Her sister, Serena, is in great form and so I think playing doubles with her will help Venus find her feet as well and she is more than capable of getting back in the world's top 20.
Venus is far from the force she was and that must be frustrating for her, I have always been reluctant to tell people to retire because everybody's goals are different.
If her goal is to become world number one I would tell her to pack it in because that's not going to happen, but if her viewpoint is that she loves competing and is a long time retired, then she should stay out there as long as she can.
Laura Robson has a lot of time left in tennis but she needs to make her move quickly; she is 20 next week and must do a lot of soul searching in order to fulfil her potential and not end up like Bernard Tomic.
Heather Watson is out of the Australian Open, too - although she had a very tough draw against former Melbourne semi-finalist Daniela Hantuchova - which means Murray is once again the only Brit left standing.
Let's hope that's still the case on Sunday week.