Novak Djokovic has expressed doubts by hiring Boris Becker, says Barry Cowan
Novak Djokovic has shown a weakness by hiring Boris Becker as his new coach, says Barry Cowan.
By Barry Cowan
Last Updated: 06/01/14 4:55pm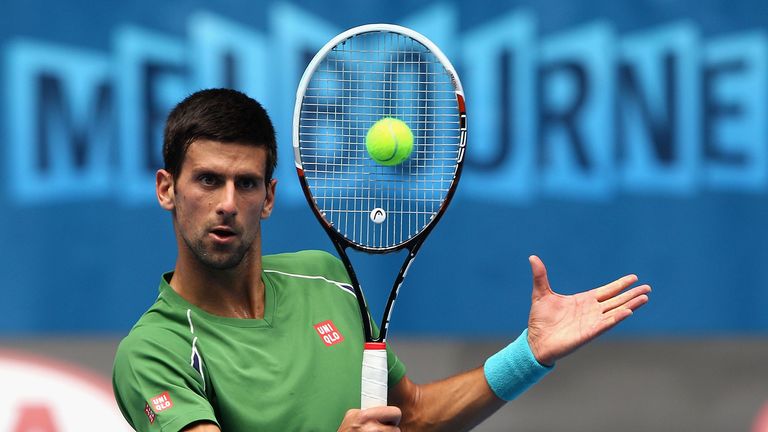 Djokovic was in majestic form prior to linking up with Becker, winning his last 24 competitive matches, but a change in his team shows a bit of vulnerability, something which will certainly encourage his rivals.
That's no slight on Boris, though.
I have not come across a tennis player with more presence than Becker, he has a huge aura and, let's not forget, he was absolutely fantastic when he was in his prime on the court, so he has plenty to offer Novak.
From working and speaking with Boris on Sky Sports over the last few years, he is very much about most matches being won in the mind; he always insists that the fifth set is not about tennis, but about who has got the edge mentally.
That is something Boris will be trying to help Novak with, as opposed to telling him how to hit a forehand and a backhand, and if Djokovic can find that extra one or two per cent that could have won him three Grand Slams in 2013 instead of one, the decision to hire Becker will prove valid.
However, another key component is that coach and player have to get on; they don't have 10-minute chats every week, they almost live in each other's pockets so there needs to be chemistry there and only time will tell if it will work for Djokovic and Becker.
But Novak doesn't strike me as the sort of character who would wake up one morning and pluck a name out of thin air; he would have thought about this for a while and must think Boris is the man to take him to an even higher level.
Tactical
We have seen a sea change in recent times - firstly with Andy Murray hiring Ivan Lendl, then Goran Ivanisevic and Michael Chang helping Marian Cilic and Kei Nishikori respectively, and now Novak appointing Boris - where retired great players who have won Grand Slams coach the elite.
Roger Federer has followed suit by enlisting the services of Stefan Edberg, someone who would seem a perfect fit personality-wise, but I think he is seeking something technical or tactical rather than mental from the Swede as he looks to keep on competing in his 30s.
Federer is below Novak, Murray and Rafa Nadal now because when matches get physical he is not quite up to the level of those incredible athletes, so I think he wants to improve his attacking play and abilities at the net.
And, in Edberg, he has selected one of the top volleyers over the last 20-25 years; Stefan had a great serve but it wasn't Pete Sampras-like so he had to rely on other areas and his movement at the net and understanding of angles was superb.
Edberg's arrival could help Roger 'Down Under', but I also feel he will be boosted by the speed of the courts in Melbourne - they are set to be very quick which will give the surfaces an indoor feel.
Therefore, if Roger's forehand is firing he could contend in the first Slam of the year, but if he has to hit five forehands to collect a point, I don't think he can beat his rivals.
Physicality
Nadal, meanwhile, had a good week in Qatar.
It was typical Rafa in that he scrapped his way through the rounds and played better with every victory, with his final against Gael Monfils, which he won in three sets, a game of real quality.
But I still feel he is a little bit below Novak in regards to the Australian Open because he prefers slower courts where he can exercise his physicality.
Rafa has changed his hard-court game over the years - becoming more aggressive, improving his serve and return - and proved in his matches against Monfils and Ernests Gulbis in Doha that he can deal with guys who have the ability to hit heavy.
And while you wouldn't put your life on Rafa to win a match in Melbourne, I am not discounting his chances because any time a contest becomes physical you can't look past him - in any conditions.
I would also like to applaud Monfils and Lleyton Hewitt.
If Monfils can maintain the sort of tennis he showed in Doha, not just in the final but throughout the event, then he has a real chance of getting back in the world's top 10, which would be huge for the men's game.
Plus, it was an amazing effort from Lleyton to beat Federer in Brisbane and I cannot commend him enough for his determination to carry on playing great tennis after all the injuries he has been through.
Head to skysports.com later in the week for Barry's thoughts on how Andy Murray will fare at the Australian Open.