Barry Cowan: The LTA has finally woken up to the real priority
Barry Cowan discusses the challenges new LTA CEO Michael Downey faces and news from the Asian swing.
Last Updated: 02/10/13 1:24pm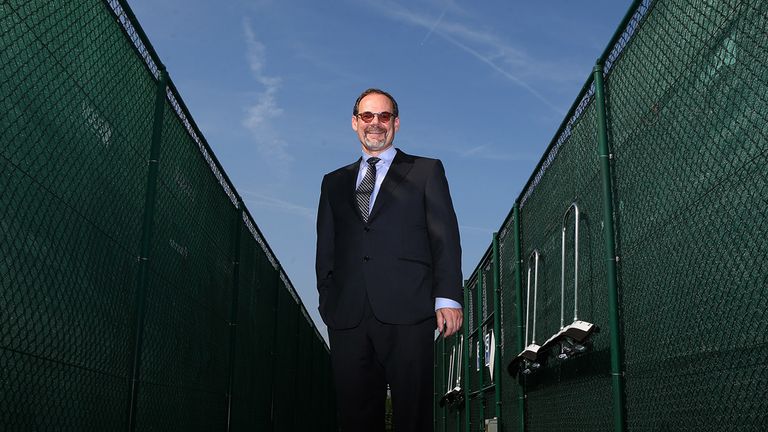 In Britain, tennis participation was down from when former LTA CEO Roger Draper started in 2006 until the end of the last year; in Canada they have 1.2million people playing twice or more a month. It is a priority and it certainly wasn't a priority seven years ago.
It needed to be someone that had experience - preferably for me they should be British and then after that is had to be someone involved in tennis and somebody who has run a company. Obviously for Downey the one area he doesn't tick the box is being British; the disadvantage of that is that it will take him time to get used to the British system. It will take time for him to judge the people that he wants around him, however there's also a flip side - he comes in with a blank sheet of paper.
The old saying is: 'A successful CEO is not what they know; it's who they put around them.'
Grassroots funding
The Independent on Sunday published an article last week stating that the LTA were going to be freezing funding for grassroots tennis, despite increased interest in the sport after Andy Murray's Wimbledon win. The LTA have been cutting back a lot this year. In recent years they have been overspending in certain areas and they obviously feel cut backs have to made across the board.
I think the one big worry is Queens; there's real talk that that's going to be upgraded to a 500 event in a couple of years' time when we have that extra week gap between the French Open and Wimbledon. Maybe they're getting a little nervous about it, because if that does happen it will bring in added expense including more prize money and all that goes with hosting a 500 as oppose to the 250 Queens is at the moment. But to me you've got to cut back in the right areas and I don't see why you'd want to cut back in grassroots funding to be honest.
We shouldn't go overboard about this yet because the CEO hasn't started yet, Downey starts in January and I'm sure he'll have a good look at everything. I would probably say let's hold fire until January, obviously if we're asking the same question in a year's time when he's had nine or ten months in charge, that would be a worry. You have to give him the benefit of the doubt that that will be an area that he will invest the £70million that they have in to.
People like to play tennis, but do people stick at it? I think that is something that we really haven't been able to grasp. I feel that it's a cheap sport if you want to be a member of a tennis club, but it's a very expensive sport if you don't. Everyone has the right to play, whether they want to join or whether they don't want to join.
The comedian Tony Hawks has been pushing for tennis to be free for a while and when Draper was in the charge the two of them had been at loggerheads. Downey inherits a job at the LTA with very much a 'them and us' situation. It's very much the LTA and London against the rest. When Draper started he wanted to bring everyone together, I feel it's even further apart and for me that's something Downey has to address.
The Asian swing
Nadal will end the year as the world number one. There would have to be an incredible set of circumstances - like Novak Djokovic winning everything and Rafa, god-forbid, bring struck down with a bad injury - for that not to happen. Not that I wanted to show favouritism towards Nadal, but I wanted him to win the US Open final; if Djokovic had of won it and Nadal had finished world number one people might have said 'Nadal might be number one, but Novak's won two Grand Slams.'
The Grand Slams are important, but we've seen over the last few years how vital the Masters 1000 events are. Not only are they big in terms of the titles, but it also gives you the momentum going forward in to the Slams. I think it's right that Rafa will take that number one spot and if it's not this week it will certainly be at the next event.
Djokovic is playing doubles this week, interestingly with Stanislas Warinka - those two had an incredible match in NYC. We've seen it quite a bit with the top players, that when they've had a bit of time off then they play doubles. I'm sure that Roger Federer will get a doubles schedules before his singles and it is a really important stretch now for Roger, because he hasn't clicked in to gear for me since Australia and he hasn't looked anywhere near what he has looked in the past. He needs to build some momentum. He needs to be able to play matches and whether it's singles or doubles, at this stage in his career, that's exactly what he needs to get to a position to challenge Nadal, Djokovic and Murray at the beginning of next year.