Barry Cowan on mixed US Opens for Nadal, Federer, Murray and Serena
Barry Cowan reflects on a memorable US Open, which saw Nadal and Serena shine, and Federer falter.
Last Updated: 13/09/13 4:04pm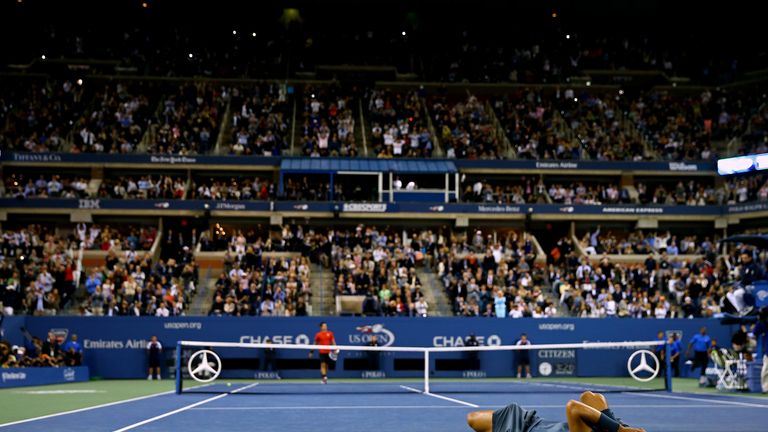 I remember saying during Montreal that Nadal was on the verge of one of the great tennis years and after that I thought that maybe that might have been a little early for me to come to that conclusion, because of what could happen at the US.
Now he's won two out of the three Grand Slams he's played in this year and cleaned up in all the other events, all after having had seven months out - and he's still come back a better player.
If he stays fit from the age of 30, there's a real chance he could eclipse Roger Federer's current total of 17 Grand Slam wins. Rafa's 27, has 13 Slams to his name and there's still only one guy who can potentially beat him on clay and that's Novak Djokovic.
Federer Fading
I never like to take current form on the last week or two, but for Federer his poor form has stretched back a long way. For me it started in Rotterdam at the beginning of the year. I think we've seen it consistently in his performances that he has lost something.
This year he has looked jaded physically and mentally. I think trying to get back to number one and win Wimbledon last year took a lot out of him.
Roger needs to take a hard look at himself and he needs to work harder. Though, it would be wrong for me to say, having seen Federer over the last ten years, that this form is permanent.
A breath of fresh air
I thought Stanislas Wawrinka was a breath of fresh air. He was brilliant. From what I've seen from him this year, I felt he had a performance like the one against Andy Murray in him.
For Wawrinka it's a lot about belief, he finally sees himself as a top ten player, when he didn't a few years ago when he first broke in to it. I don't see any doubts that he can't build on that and end the year in the top eight.
Don't worry about Murray
You have to look at what has gone right for Murray this year and I think if you look at him over the last 12 months - winning the Olympics, winning the US Open, winning Wimbledon - he's reached a stage where, and rightly so, after 20 years of trying to achieve his dream, he finally did by winning on the grass.
It was almost inevitable that he was going to suffer a slight dip emotionally and he admitted after Wimbledon that 'it would be easy for me say that I'm never going to achieve something like this again and be as happy as this again'.
I think that was the give-away that he might struggle for a short term, but it's only temporary. I don't think any of us or Andy should worry about it. I have no doubt that he'll be back again towards the end of the year for Australia and firing on all cylinders.
Sensational Serena
What an unbelievable effort and dramatic final. When sport is like that, it's about coping under the pressure. After choking in the second set, she composed herself and showed what a brilliant athlete she is.
Back at the top?
Away from the US Open, Britain play Croatia this weekend in the Davis Cup World Group play-offs. There's a real expectation that Britain can get back in the top group for first time since 2008.
There's every expectations that Murray will win two matches, he might even have to win the doubles for Britain to win the tie. The Davis Cup also gives Dan Evans a chance to get back in the spotlight having had such a great run at the US Open. There's a real expectation that Britain could and should win at the weekend and get back amongst the elite.