Roger Federer is determined to return to the top, says Barry Cowan
Barry Cowan assesses Roger Federer's latest low and tips Andy Murray as a US Open favourite.
Last Updated: 24/07/13 12:02pm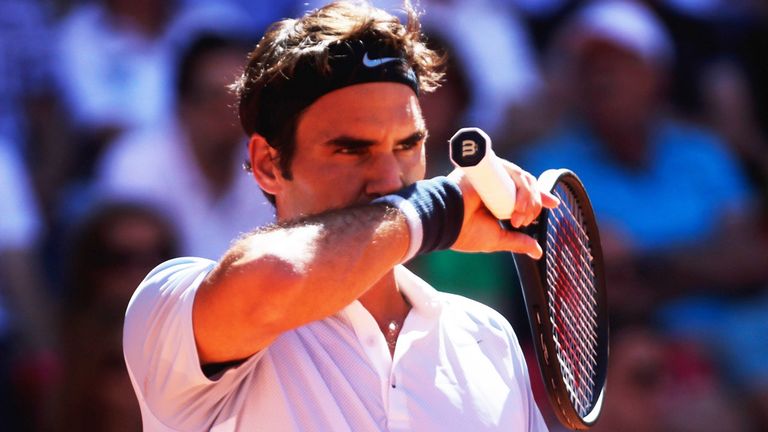 When it comes to the North American hard-court season, Murray and Novak Djokovic are the top two in the world and, unless Rafa Nadal wins one of Montreal or Cincinnati next month, will go into the final slam of the season as clear favourites to repeat their 2012 Flushing Meadows final showdown.
Murray will be brimming with confidence at the moment; he has reached the final of the last four Grand Slams he's played in and won Olympic gold, a US Open and Wimbledon in that time.
Sometimes when players achieve major goals such as those there's a period of relaxation and they can take their eye off their long-term targets. But for Murray - who is desperate to take the world number one spot - there are so many more objectives and I'm sure he's now ready to kick on again and move onwards and upwards.
I fully expect him to get better and better over the next few years.
Of course, there will be plenty of other great players in New York and there's no guarantee, even if he plays near his best tennis, he will win every match.
But Murray is now at a stage in his career where he performs extremely well under pressure and he will be very tough to beat at Flushing Meadows.
Motivated
Meanwhile, five-time US Open champion Roger Federer is struggling.
He surprisingly lost in the semi-finals in Hamburg last week to qualifier Federico Delbonis, in a tournament I expected him to win, and that was the latest low in a very disappointing season for the Swiss.
We shouldn't forget how well he played in the Australian Open - where he lost a fifth-set decider in the semi-finals to Murray - but since then he has looked a shadow of his former self; he looks undercooked following his self-imposed break in the spring and he hasn't looked like winning any close matches recently.
He's just switched to a new racket, which has a slightly bigger head, and you can look at that one of two ways.
It could either be construed as an act of desperation, following his second-round exit at Wimbledon, or it could show that, despite all he's achieved, he still feels he can play great tennis and he's trying to find something extra to make him an even better player.
During his career Federer has not been one to make panic decisions and so I'd go for the latter explanation; this must be something he's thought of for a while.
However, although adjusting to a new racket is different for every player, Federer is the kind of person who could go five years without hitting a ball then still find the middle of the racket. He didn't lose last week because he changed his racket - it was in keeping with how he's played since Australia.
But his participation at Hamburg and this week at Gstaad - where he played his first ever pro tour match - sends out the message that his motivation is still there and he desperately wants to be competitive in big tournaments again.
Playing week after week will improve his form and we can judge where he is after Montreal, Cincinnati and the US Open.
But I can't see him winning at Flushing Meadows as things stand - although things can always change if he gets on a run.
Change
Another top player looking for ways to improve their game is Maria Sharapova.
The world number two also had a disappointing Wimbledon campaign, like Federer, crashing out in the second round, and the dismay she'd have felt with that early exit would have been compounded when she saw hot favourite Serena Williams knocked out a few days later.
Her main goal at the moment is to close the gap on the American and last week she made the surprise move of appointing Jimmy Connors - who previously worked with Andy Roddick when he was trying to close the gap on Federer.
It was no shock her partnership with Thomas Hogstedt came to an end - the relationship between player and coach is an intense one, involving a lot of travelling and usually results in burnout at some stage.
He was terrific for Sharapova, helping her end her four-year wait for a Grand Slam at the 2012 French Open - but now it is time for her to make the next step and she'll hope Connors can help her do that.
Connors worked with the Russian before the 2008 Australian Open, which she won, and although on the face of it Sharapova's game is very strong - let's not forget she made the final at Roland Garros a couple of months ago - there are a couple of things to work on.
Her serve, for instance, always looks like it can break down and I also feel she needs to be savvier on court and add a 'Plan B' to her game.
The latter isn't easy to instil in a player in their mid-20s but I'm expecting a smooth transition and it will be interesting to see how their relationship pans out.
Remission
Finally, I have to comment on the fantastic news Ross Hutchins received this week. The Londoner announced he is now in remission from Hodgkin's lymphoma, which is great to hear.
Ross has been incredibly positive and upbeat during what has been a very difficult period for him, his family and his friends, and he can now look onwards and upwards and think about getting back on court.
He's been so determined during this time, so let's hope he can get back playing competitively by the end of the year, which was one of his initial goals when he was first diagnosed with cancer.
Montreal Masters will be live on Sky Sports HD from August 5