Wimbledon 2013: Murray showed great courage to beat Verdasco
Barry Cowan blogs on Andy Murray's five-set epic and why Agnieszka Radwañska should edge Sabine Lisicki.
Last Updated: 04/07/13 10:06am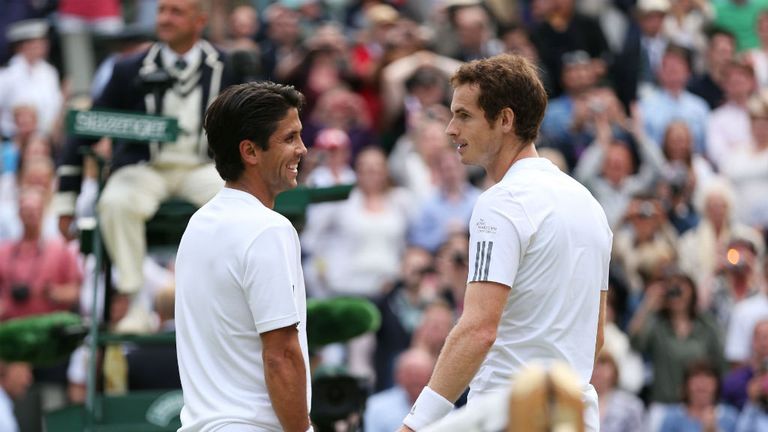 There is always a feeling that someone needs to come through a tough match in a Grand Slam and yesterday's was Andy's; he had made serene progress up until that point but was pushed all the way by an inspired Verdasco.
Andy did not play his best tennis, especially in the second set, but he showed a lot of will, a lot of courage and a lot of patience to fight his way back into the match and he played terrifically in the final few games, which bodes well for the rest of the tournament.
Murray was helped by the fact that he has played in big matches, including Grand Slam finals, and picked up an Olympic gold medal; he now has a reservoir of achievements and that has given him tremendous self-belief - and proved the difference on Wednesday.
There's no denying that Andy had an off-day against Verdasco and if he plays like that against Poland's Jerzy Janowicz in Friday's semi-final he won't win, but I believe that he will raise his game and come through.
It was great to see Verdasco playing well, though, because the last two years have been very difficult for him - he lost 6-1 6-0 to Jarkko Nieminen in Indian Wells in March - and his confidence has been dented.
The Spaniard has just started to work with a new coach, Ricardo Sanchez, and seems to have got his belief back; he has had yips on his second serve recently but he hit booming, 120mph second serves against Murray during a fantastic performance.
I hope Fernando can move forward from his displays at Wimbledon because 29 years of age is not old in tennis anymore - it's young if you look at 35-year-old Tommy Haas - and, as a shot-maker, he can still produce top tennis for a good while yet.
Lulls
I wasn't shocked that Tomas Berdych lost to Novak Djokovic, meanwhile, but I was surprised that he lost the second set having gone 3-0 up with a double break as with the firepower the Czech has on a grass court, that shouldn't really happen.
Berdych can beat Djokovic if he plays 10 out of 10 but has no chance if he plays at seven out of 10 and the little lulls he had in the match cost him, as did Novak's ability to return the ball and get Berdych to play that one extra ball.
The women's semi-finals take place today and both matches - Marion Bartoli versus Kirsten Flipkens and Sabine Lisicki against Agnieszka Radwañska - are very tough to call considering how the draw has panned out so far.
I do, though, feel that Bartoli will beat Flipkens; the French player is a former finalist at Wimbledon, - a fact that is often overlooked - a great if unorthodox player and a wonderful competitor and should defeat her Belgian rival.
In the other encounter, everything points towards Lisicki - she beat Serena Williams and is now the bookies' favourite - but I reckon Radwanska, who reminds me so much of Martina Hingis, will win.
Radwanska, a finalist last year, is such a clever player - what she lacks in power she makes up in guile - and I think she will make Lisicki play that one extra ball.
Barry Cowan is raising money for the charity Have a Heart throughout Wimbledon with his Sky Bet Charity Bets. Find Barry's top daily and outright tips here.