Cowan: Tommy Haas could knock Novak Djokovic out of Wimbledon
Tommy Haas is more than capable of sending Novak Djokovic packing from SW19, says Barry Cowan.
Last Updated: 30/06/13 1:43pm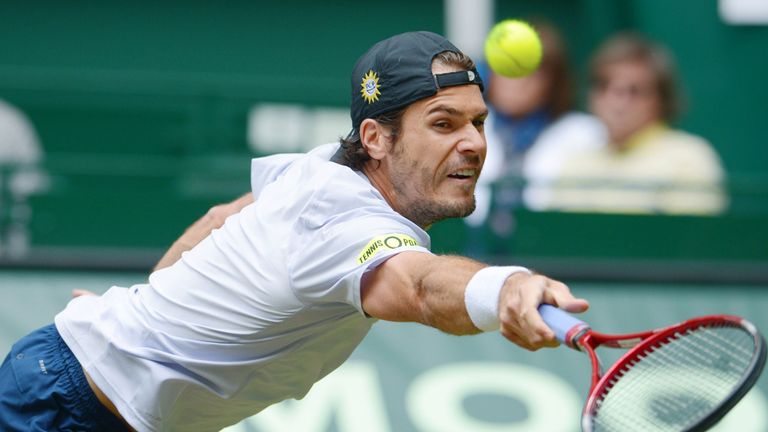 The Serb raised his game as the quality of opponent increased and the much-anticipated Djokovic-Murray final is still odds-on; both men are winning comfortably, brimming with confidence and masters of playing under pressure.
Andy, who now never looks like tumbling out of a Slam in the first week, would seem to have an easier route to the final; his hopes were boosted even more on Saturday by Ernests Gulbis' defeat to Fernando Verdasco and the only man I can possibly see stopping him is Jerzy Janowicz.
Novak, though, still has a few tough hurdles to conquer; he could come up against Tomas Berdych in the quarter-finals, but there is no guarantee that he will set-up that match by defeating Tommy Haas in Monday's last-16 tie.
Haas has made an unbelievable comeback, has the game to defeat anyone on grass and beat Djokovic on a hard court in Miami earlier this year - even though on that occasion Novak was awful with a capital A.
I would never back against Djokovic beating Haas - but if he lost, I wouldn't consider it a massive shock.
Dominant
Strange things can happen in tennis, but I can't look past Serena Williams winning the women's singles because she is head and shoulders above everybody else; she was winning Majors when she wasn't 100 per cent fit and now that she is at the peak of health, she is even more dominant.
Williams has the best serve I've ever seen in the women's game and immense power, and now she has the fitness and peace off the court, too, something that has been evident in her matches since her defeat to Sloane Stephens in the Australian Open quarter-finals.
I don't have a clue who the other finalist might be, though, and it is a shame that Laura Robson, who produced a tremendous fightback against Marina Erakovic yesterday, is in Serena's section of the draw, as she would have had a great shot of making it to Saturday's showdown.
If you look down the rankings and at grass-court history, you would say that 2011 champion Petra Kvitova should reach the final, but she has been all over the place recently and had no consistency in her tennis at all.
So it might be that Stephens emerges; she obviously had a great Australian Open, where she made the semi-finals and lost to Victoria Azarenka, and perhaps she can take another giant step next week.
Reality
Britain's Jamie Baker, meanwhile, has announced his retirement from tennis at the age of 26 and I think he can be proud of his career, which peaked last summer when he reached a high of 185 in the men's rankings.
I worked with Jamie when he first came down to London at the age 16 and out of the four guys I worked with at that time, I knew he was the one that would fulfil his potential as every day he tried to make himself better.
However, Jamie, who had a life-threatening illness around five years ago, has reached that point where reality has set in; he is now aware of what he can and can't achieve as a tennis player and doesn't want to be stuck in that middle tier anymore while his brothers earn big bucks in the City.
I'm sure he will leave the sport with a few regrets, but he tried his best and made plenty of personal sacrifices in his quest to improve, and he has not been disgraced by the fact he was not quite good enough.
If we had 10 Jamie Bakers in British tennis, we would be a lot better off.
Barry Cowan is raising money for the charity Have a Heart throughout Wimbledon with his Sky Bet Charity Bets. Find Barry's top daily and outright tips here.