Laura Robson must deal with Centre Court pressure, says Barry Cowan.
Barry Cowan on Murray's final chances, Robson's mentalilty and players withdrawing too easily.
Last Updated: 28/06/13 11:29am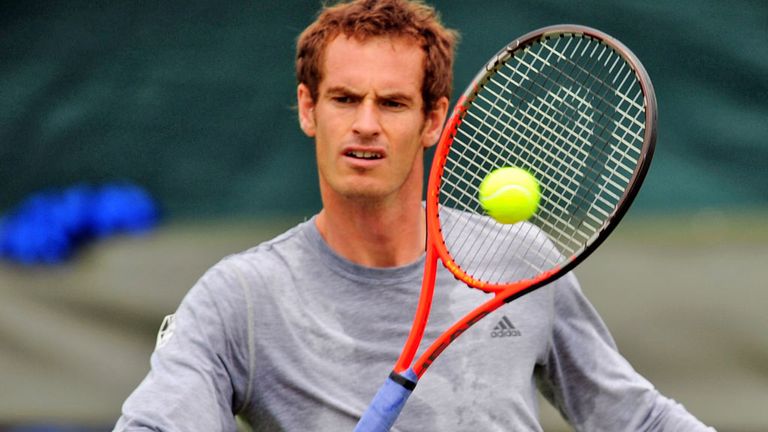 Looking at the rankings you may think 'how can that be?' but Stakhovsky had a serve-and-volley gameplan which had the potential to trouble Federer, while 32 seed Robredo doesn't have the grass court game to unduly worry Murray.
Robredo is a great competitor and has made an incredible comeback after being sidelined with a leg injury at the start of last year, working his way back up and playing the Challenger events. But I feel comfortable when Murray comes up against someone with Robredo's style because he's the kind of player who can't really hurt Murray.
If the roof is across that will make it slower and that will help Robredo but whether it's quick or slow, hot or cold, Murray has too much class to unduly worry about the Spaniard.
Despite all the shocks we've seen this week, I can't see Murray losing this one.
However, that doesn't mean we should assume Murray will make the final. The exits of Rafa Nadal, Federer and Jo-Wilfried Tsonga, among others, have made Murray the favourite to reach the final from the bottom half and he should do just that - but he's not in the final yet.
The strength in depth of the men's game is very, very strong and if you're not playing your best tennis you can lose to anyone in the main draw. There are certainly enough dangerous players in that bottom half who could beat Murray if he's not on his game.
Expectation
Before Murray's game gets underway, Laura Robson will be in action, also on Centre Court, against Colombia's Mariana Duque-Marino, who came through qualifying.
Laura has shown she's a great player with her win over 10th seed Maria Kirilenko and once again proved she can beat the best players when it really matters.
However, her results also show she favours being the underdog and that's why I feel her match being first up on Centre Court could work against her.
Now she's up against a qualifier everyone is saying 'this is an easy match for Laura' and that can be a big negative, especially when you're not comfortable being a heavy favourite.
We'll learn more about Laura today than in her win over Kirilenko. I expected Laura to play great two days ago and thought she'd win. Today she should win comfortably - but will she?
If she can win 6-2, 6-2 or 6-3, 6-3 that'll give her huge confidence and she'll know that under pressure and expectation she can put in a great performance.
Injuries
Finally, I just want to raise a concern I've got.
Twelve players have withdrawn from Wimbledon this year due to injury, however, on Thursday we saw Michael Llodra pull out of his match with Andrea Seppi with a hamstring injury when he was losing 7-5, 0-0, then go on to partner Nicolas Mahut in the doubles a few hours later.
We saw a similar case a couple of days ago when Radek Stepanek withdrew when he was 6-2, 5-3 behind against Jerzy Janowicz on Wednesday and returned on Thursday to play in a doubles match.
In both instances, although there's no doubt Llodra and Stepanek were hurting, they could have carried on and finished their matches.
The players forced the Grand Slams into a corner and said 'unless you give us more money we'll boycott'. They're within their rights to do that because of what the Grand Slams money make.
But players have a responsibility and when you have second round prize money of £38,000 for essentially two day's work - and there aren't too many people who were at Wimbledon watching the tennis yesterday who make £38,000 in a year, let alone in a day - then playing a singles match, retiring after a set and then coming back three hours later to play a doubles isn't on.
It's not like the case with Victoria Azarenka or John Isner or Marin Cillic, who were all unfortunate and unable to continue. Clearly Llodra wasn't that bad he couldn't carry on.
Responsibility
If you're going down the line of arguing 'I'm a set down and I can't win' then why would Bobby Reynolds go on court at all against Novak Djokokvic? He knew he couldn't win, really.
But there is a responsibility to the tour, to the fans who have queued up for hours to watch you play and all the people watching on TV to give your very best.
Roger Federer is the perfect example of someone who realises this; he's never pulled out of a match in his career.
If you're working a Monday-Friday, 9-5 job and you wake up on the Monday morning and you don't feel up for it, you can't just say 'ah, I can't be bothered today'. Everyone has days when they don't want to work, but you have to.
Players need to be aware of where the money comes from and if the public start thinking 'these tennis players are soft' that takes away from the respect they've built up, especially over the last few years, with battling, five-hour long matches.
Five hour matches are incomprehensible to a lot of people watching at home and that's why they've come to like tennis so much. The players must remember they have a responsibility to the fans.
Barry Cowan is raising money for the charity Have a Heart throughout Wimbledon with his Sky Bet Charity Bets. Find Barry's top daily and outright tips here.