Wimbledon 2013: Sergiy Stakhovsky rushes rusty Roger Federer out
Barry Cowan says Sergiy Stakhovsky shows serve-and-volley is still a weapon in the modern game.
Last Updated: 27/06/13 9:55am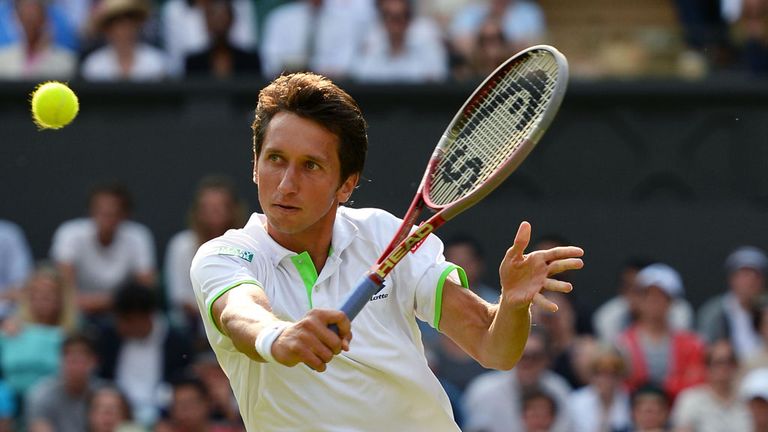 Weird Wednesday brought us unfortunate injury after unfortunate injury before Sergiy Stakhovsky produced one of the best performances that we've seen at SW19 in many a year to beat Roger Federer.
In recent years I've heard a lot of people say that serve and volley tennis has no place in the modern game because it is too slow - an opinion I fundamentally disagree with.
But because of that mentality people don't practice it, which means fewer people become good at it. So I was delighted to see Stakhovsky serve and volley almost every first serve and a lot of second serves too.
Consequently he rushed Federer and made life very difficult for the defending champion, who increasingly came to doubt himself. On the big points Stakhovsky played on Federer's nerves and it reaped incredible dividends.
Rusty
Federer's defeat is a worry for fans of his - there's no getting away from that - even if talk of the end of an era is premature.
Last year he was most people's favourite, this time he was my fourth favourite. He hasn't been at his best and, after a result like this, I think he needs to play a lot of tournaments and get his form and competitive edge back because he has looked rusty on the big points.
Sometimes great champions lose their nerve the older they get; I don't think that's the case with Federer at this point in time.
But he is below par and we don't know if that's because of his age, a lack of practice or a slight injury and it's not for me to speculate. We'll getter a better idea in due course.
Today I'd rather accentuate the positives of Stakhovsky's performance because it was so nice to see a player serve and volley and play aggressively on grass.
Change
Inevitably after so many withdrawals and injuries yesterday there is a lot of talk today about the quality of the surfaces at Wimbledon.
I thought Jo-Wilfried Tsonga - one of the retirees - summed it up perfectly when he said 'the grass is fine. You push your body to the limits and when you change surfaces during the season, as we have from clay to grass recently, your body strains to use different types of muscles'.
For anyone to question the courts - or anything Wimbledon have or haven't done - is 100 per cent wrong. Sometimes you just get days like that and you shouldn't read too much into it.
The courts are amazing; I practice and play on them when I can throughout the year and you never get any bad bounces. Conditions are perfect; Wimbledon say they are the same as last year, and I've no reason to doubt that.
Under no circumstances can we blame the All England Club for what happened yesterday. It was just one of those days where things counted against some of the players.
Expectation
Meanwhile, Andy Murray continues to tick over very nicely. I like everything that he is doing on and off the court. As his straight sets win over Lu Yen-hsun showed, he's in a good place.
With Federer and Rafael Nadal out, plenty of people will now think it's a formality for him to reach the Wimbledon final but there are still a lot of dangerous players in the draw.
Murray will handle that expectation well - he's been playing in pressure matches for eight years - but just keep an eye out on how the likes of Ernests Gulbis and Jerzy Janowicz go.
I'm hoping for a more peaceful day at Wimbledon today - and, of course, another good display from Laura Robson against Mariana Duque-Marino. After beating Maria Kirilenko in the first round, it will be interesting to see if she can back it up.
Plus, it's another fascinating day in the men's draw with Novak Djokovic, Juan Martin del Potro and Tomas Berdych all in action.
At the start of the tournament everyone considered the bottom half of the draw to be a lot tougher than the top but how that has changed in three days! The top half now looks very, very strong.
The top four in the men's game have been brilliant in recent years and plenty of people have been saying that we want a few more stories and some different players coming through.
They're certainly getting their wish at this year's Championships!
Barry Cowan is raising money for the charity Have a Heart throughout Wimbledon with his Sky Bet Charity Bets. Find Barry's top daily and outright tips here.