Wimbledon 2013: Rafa Nadal can win back-to-back Slams, says Barry Cowan
Novak Djokovic may have the best draw but Barry Cowan is tipping Rafa Nadal for Wimbledon glory.
Last Updated: 24/06/13 9:04am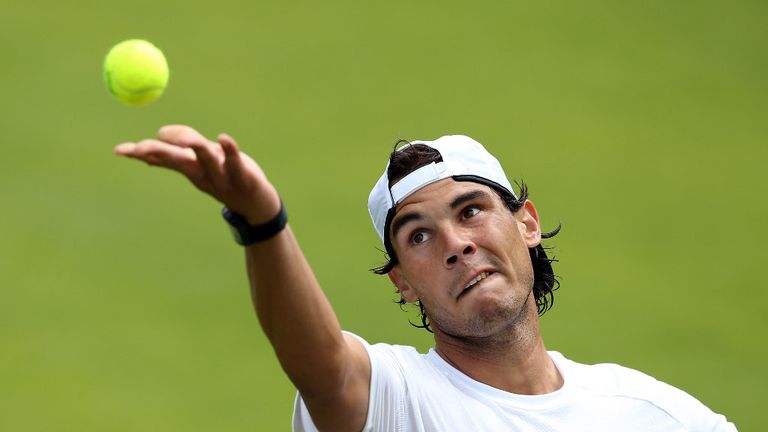 The 2011 champion's name was plucked out in the other half of Friday's draw to Andy Murray, Rafael Nadal and Roger Federer, meaning the world number one won't have to face any of his great rivals until the final.
He could meet French Open runner-up and fourth seed David Ferrer in the semis, but there's no guarantee the clay-court specialist will even get that far. I expect Del Potro to reach the last four.
Meanwhile, for Murray, Nadal and Federer there's the prospect of reaching the final exhausted, mentally and physically, from dispatching each other from the contest and having to combat a fresh Djokovic.
Of course, the counter argument runs that whoever prevails from the trio will have a super-fine-tuned game, be fired up by coming through and ready for the Championship match against Djokovic who potentially could not be tested in reaching his second Wimbledon final, but I'm pretty sure they'd all swap places with the Serbian.
However, despite the draw, I'm refusing to alter my pick for the tournament; I'm sticking with Nadal.
There's pressure on the 'Big Four' at every Grand Slam they go to because they come to win, but Rafa - whose form before Wimbledon has been exceptional - will be more relaxed than the other three. He won when the pressure was on at the French Open and now he can enjoy his challenge in SW19.
Nadal has played some great tennis recently, he's won a lot of tough matches and shown to me he has what it takes to be successful at Wimbledon this year.
But there's no question, this is one of the most open men's Wimbledons we've seen for a long time.
This is also the first year since Federer first won the tournament, in 2003, that he hasn't been my favourite. Different factors have come in to play this season and the Swiss star isn't playing as well as he was in 2012.
Last year he won so many tough matches leading up to Wimbledon and he was hardened in terms of match play. But this year, despite having the break which I thought he needed, since the Australian Open semi-final, when he disappeared at the beginning of the fifth set against Murray, he's not looked the same player.
I'm not writing him off - I still think he might have another Grand Slam in him at Wimbledon or the US Open - but as things stand, I've not seen anything to suggest he can play the great tennis at Wimbledon this year required to win the title.
Although, it could of course just 'click' for the seven-time winner like it did for Pete Sampras at the US Open in 2002.
Murray's moment?
Federer memorably brought Murray to tears with his 2012 final success but I do expect the Brit to win a Wimbledon title at some stage in his career - and who knows what could happen this time around?
Andy is in great shape, he played well at Queen's and he knows what a good grass court player he is. He's a better player than he was 12 months ago and I think he's ready to go out there and handle the pressure he puts himself under. If he doesn't win Wimbledon it will simply be because Nadal, Federer or Djokovic played better than him on the day.
He's got a good draw to start with; first up Benjamin Becker, and then Yen-Hsun Lu or James Ward, and a likely third round date with Nicolas Mahut, who has had a good week in Holland, could see Murray cruise through the first week without dropping a set.
But then it gets tough and his Wimbledon challenge will really be put to the test in week two.
It's hard to make a case for anyone outside of that four to win the title. Jo-Wilfried Tsonga and Tomas Berdych almost need to beat two or three of them to win a Grand Slam and, although they can both post a big win, the physical and mental strain of doing it twice or three times in a tournament is really tough.
One person who could break through and reach the semis if things fall his way is Grigor Dimitrov. Is this the time when the Bulgarian steps up to the plate?
I've always felt he has the game to win Wimbledon and, although it won't happen this year, as he hasn't got the level of consistency to win a Slam, he could fire for a couple of days and make a surprise semi-final appearance.
But, I'm standing by Nadal and would place Murray, Djokovic and Federer - in that order - behind him in the list of players capable of winning Wimbledon 2013.
Barry Cowan is raising money for the charity Have a Heart throughout Wimbledon with his Sky Bet Charity Bets. Find Barry's top daily and outright tips here.